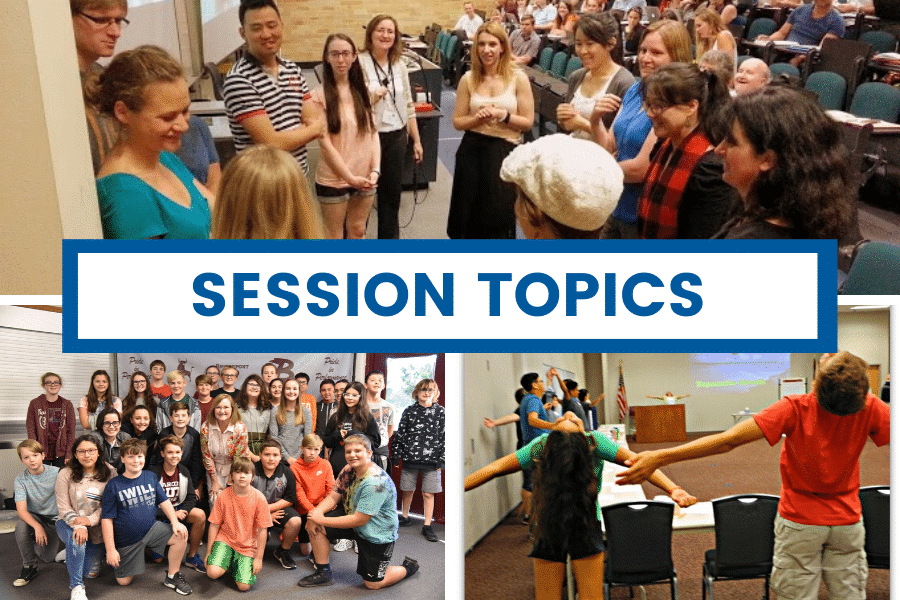 Are you looking for an incredible professional development experience for your teachers? I offer high quality gifted and talented professional development sessions for educators, as well as parent and youth sessions.
These titles and descriptions are provided to allow session organizers to choose sessions that will work best for them. Sessions indicated with an asterisk (*) are appropriate for parent audiences. Some sessions are not feasible or ideal in a virtual setting. Those are indicated.
Topics are divided into five strands:
Creativity & Instructional Strategies
Depth & Complexity
Differentiation
Identification & Assessment
Social & Emotional Needs of the Gifted
Sessions not in those areas are listed under Special Sessions.
Sessions for youth are listed under Youth Sessions.
My most popular day is PD Improv. For PD Improv, we take the general needs of the group and curate a list of possible sessions. Participants vote on the sessions they would like, and we do those – on the spot! It's truly targeted, tailored PD, and it's a huge hit across the country. [3 – 6 hours]
Most sessions can be adapted for virtual delivery. For virtual conferences, Q&A sessions are also available.
If you need help selecting the perfect sessions for your event, please feel free to email at lisa@lisavangemert.com.
Creativity & Instructional Strategies
Depth & Complexity
Differentiation
Identification & Assessment
Who are they and how do we find out? This session, part of the initial 30-hour introductory course for teachers, explores what it means to be identified as gifted and how the definitions arose. Participants will understand the different tests given and what they show (and don't). They'll be able to explain standard deviation and interpret multiple assessments.
This session provides a strong foundation for understanding what it means to be gifted.
Length: 6 hours
Want to know how to develop a state-of-the-art ID process? Want to avoid common pitfalls that mire districts in red tape and complaints and other difficulties?
We've got you covered with this workshop that shares specific instruments, as well as general policy considerations. It's a consultation-in-a-box, and it's well worth your time.
Length: 1 hour (ish)
Social & Emotional Needs of the Gifted
Special Sessions
Youth Sessions
What does it really mean to be smart? What should a kid's next steps be to take control over their minds in powerful, effective ways? This interactive workshop uses the word "smart" as an acronym to take students on an exploration of the gifted mind from an owner's perspective. They act out the science of smart, learn to manage their minds mindfully, act appropriately, reflect, and learn the best thinking practices for helping your ability match your outcomes.
Length: 1 – 4 hours (not all sections will be covered in shorter workshops)
If you are interested in scheduling a session or have questions, please tell me about it.