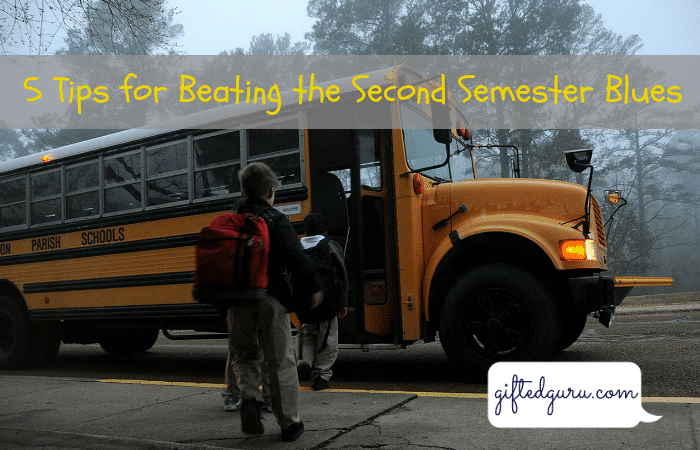 The first semester is over and students are in the second semester doldrums. For GT kids, this can be a hard time of year. How can parents and teachers help them put some wind in their educational sails and avoid the second semester blues?
The secret is punctuation.
Rather than let the end of winter and early spring months drag into one long season like a run-on sentence, spark interest with some easy strategies to help kids enjoy each moment.
Here are five tips:
1. Plan down time
Everyone puts places they have to be on the calendar. Help your child schedule some goof-off time  – no guilt, no chores, no school. It doesn't have to be a lot – even an hour a week in bits and pieces is fine. Bite your tongue when they spend it in ways you don't think are a good use of time. That's not the point. The point is decompression.
2. Find a new interest
The TED website is a great place for GT kids to explore new interests. Let your child browse through some talks and find a new avenue of intellectual interest to explore. You can use the TED Connections I write to spark conversation or find some talks with which to start. My grandmother always says a change is as good as a vacation. It's not a cruise, but learning about something new and interesting is actually fun and invigorating for smart kids!
3. Celebrate
Use websites that share interesting holidays and birthdays to create fun and interest on the most doldrummy (is that a word? I just made up a word!) day in the winter of your child's discontent. How can you feel ennui when you are celebrating Stephen Foster Memorial Day by belting out "Oh, Susannah!"? Family half-birthdays and cultural events (like the Academy Awards) are also great excuses for mini celebrations.
4. Give back
The easiest way to improve your mood is to give to others. For instance, January is National Soup Month. Make some soup (or soup mix) and take it to a neighbor. Read Stone Soup and invite some of your child's friends over, asking each of them to bring an ingredient. You supply the rolls and let them enjoy their creation. March is National Peanut Month. Bake some yummy peanut butter cookies and deliver them to friends. If they weren't your friends before, they will be now.
5. It's summer somewhere
It's summer in the Southern Hemisphere when it is winter in the Northern Hemisphere. Let your child track the weather in a city on the side of the world.
So pick a strategy (or five) and enjoy the rest of the school year! Carpe semester!
The second semester can be as filled with energy as the first one with a little know how. Here's to a great second term!