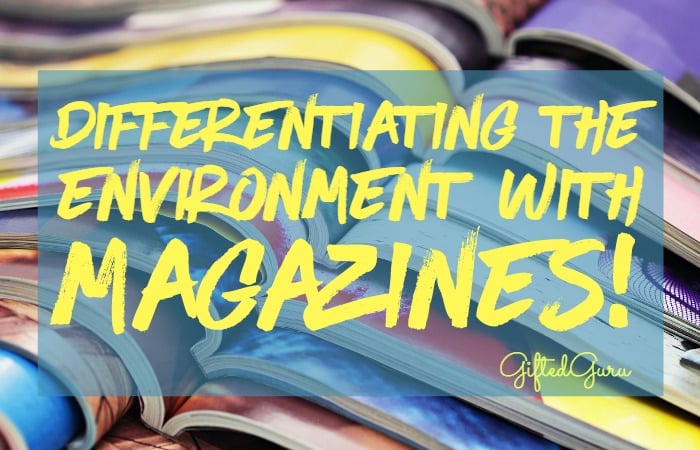 Teachers can differentiate the classroom environment with magazines, and it's very easy!
If you've been put off of the idea of differentiation because it seems really hard and that it will take a long time, you can start here with this simple idea.
This works great for homeschools, too!
What Magazines Can Do
I've used magazines to accomplish all of these things in my classroom:
create diversity
differentiate for interest
provide students with writing ideas
supply authentic sources for exemplars
content for sponge activities and for early finishers
I'm going to focus on using magazines to differentiate the environment for interest.
Matching Interests
When I began teaching, I was shocked at how much I spent on my classroom (over $1,500 the first year). I started looking for inexpensive solutions, and magazines were one of my most effective finds.
I wanted to make sure that students had resources in the classroom that aligned with their interests. These interests were not necessarily my interests, and they weren't necessarily obvious or intuitive. One of my students' favorites? Lob Cabin Living. Really?
I had students who were interested in everything from boats to bikes to sports to jewelry to dinosaurs to writing to computers and on and on.
It turns out that there are magazines for every possible topic of interest, even for gifted kids and their esoteric interests!
Magazines are a great resource because they resupply themselves. They're basically consumables. They are timely. They are lightweight.
Tips for Bringing Magazines into Your Classroom Effectively
Survey students for interests. You may want to show some magazines to gauge interest. Feel free to order magazines that appeal to only one student!
Take a risk if you find a cheap price. Even if no one has expressed an interest in log homes, if you find a magazine for $3/year, why not try?
Print labels with your name and classroom number ("Please return to Mrs. Van in Room 231") and put them on the cover and the table of contents page.
If a magazine is really popular, you may wish to order multiple copies of that one, as they may miraculously disappear…
If another teacher is using magazines, too, consider rotating to get double the magazines
Display Them
Decide on a storage solution. There are tons of magazine racks available from a ton of sources.
I love it when the magazine covers are showing (and your students will, too).
If that's not possible, you can store them in anything from cereal boxes cut off at an angle (free) to magazine file boxes from IKEA (very inexpensive).
Even one of those over-the-door shoe holders with pockets work great. They can be hung on the wall with Command hooks.
You can put the magazines in a filing cabinet drawer, hanging them over hanging file folders.
If you have a little extra cash and a little time, there are a number of ways to create DIY magazine displays.
Gail at MyRepurposedLife shares a tutorial for how to turn a shutter into a magazine rack.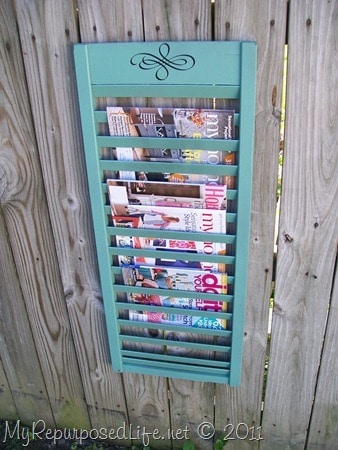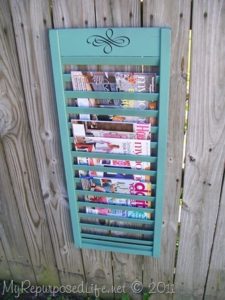 Where I Get My Magazines
You can spend a fortune on magazines, especially if you buy them off the newsstand.
My two most common sources are BestDealMagazines and Amazon. I always search for a coupon code for BestDealMagazines because they always have one. I search in their lower cost magazines, and I watch for their deals. I never spend more than $5 a year on a magazine.
Keep a list of magazines you'd like, and share that wishlist with links on your website. Often, parents are willing to pay a few dollars to help you with this, especially if it's a magazine their child likes.
Set Expectations
When you first bring magazines into the classroom, share with students how to care for them. Whatever your expectations are, make sure they're clear. You can even create a care label for them to print out and stick on the cover
Some reasonable expectations are:
Turn pages slowly enough not to rip the pages
Fold pages back carefully enough that the binding doesn't break
Use a bookmark rather than folding over the corner of the page
Return the magazine carefully to its home
I hope you'll find magazines as easy and effective a way to help differentiate your classroom environment as I did!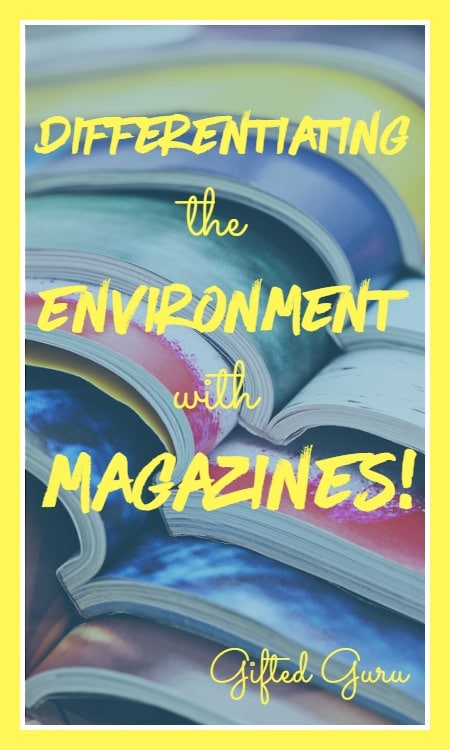 (Note: a couple of these links [the ones to Amazon] are affiliate links, meaning that I may get a few cents if you order something, but it won't cost you any extra)