The Backstory
When I was at the TAGT conference in San Antonio, a fantastic new science resource caught my attention. I don't promote products very often (read: as in never), but I absolutely fell in love with this, so I'm sharing it.
When I was looking at it at the conference, the man and woman at the booth were super friendly. Turns out, he designed it, and the business is a family affair. Love it already. Matthew McKee is an engineer by training and vocation, and he's designing curricula for teachers to use to really engage kids in science.
The company they formed is called StoneOak Media, and they intend to create more of these awesome products based on the Rockwell Family and their awesome adventures.
How it Works
It's an augmented reality project-based science activity called Solar System Expedition that literally jumps off the page at you. The topic is the solar system, and students literally lift the solar system off the page through the dedicated app called Zappar and travel through space.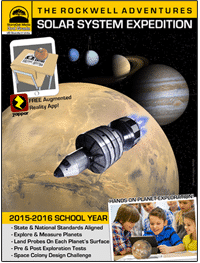 Students have to chart the information they discover as they travel through the solar system, and then they use that information to make a decision about where to build a new base and what it should look like.
They say the activity takes an hour and a half, but if you had kids build the designs they create, it could take much longer. Up to you.
It's designed for students grades 3 – 5 (but I think gifted kids who are younger could do it, and I think older students would love it, too, like, perhaps, me).
Why I Like It
Very few supplies are needed. The book is licensed for a teacher for the whole class (copies allowed) for one year. The app goes with it.
It's practical. You don't need six hundred things. You can do it in a reasonable period of time.
It's homegrown. I love that. The couple have bright kids of their own, and are really trying to make something they love come alive for kids.
The graphics are cool. You know me: I'm in it for the fonts and graphics. In this case, the graphics.
It's so cheap! The book is less than $20. For all the students of that teacher. For a year. Even the Scottish frugal angel on my shoulder can't argue with the price.
How I'd Use It
GT pullout – totally perfect for this
Homeschool science activity – I'd extend it with the construction of the
Classroom differentiation – students could do it on their own after initial instructions
On a wonky day – you know the ones, right before a holiday, right after a test, etc., when the kids are all skeewumpus
In a unit on space – duh
As a fun family summer science activity
Giving One Away!
They gave me one to give away to one of you! See, I told you they were nice. Now, this post isn't sponsored at all, just my opinion (you know how I hate to give it), but they did give me the product when I asked for one to give away to a lucky reader! All you have to do to win is put your favorite planet in a comment on this post. The winner will be randomly selected on December 30th.
a Rafflecopter giveaway

Thanks to the great people at StoneOak Media for giving me the product to give away, for being so nice, and for making something so cool.
Update: StoneOak Media is offering a 10% discount to those who were interested. Use coupon code: giftedguru15t16. Happy exploring!