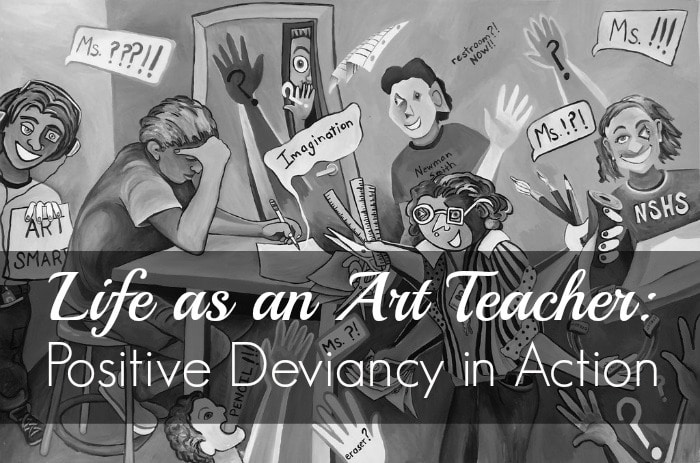 I'm a big believer in positive deviancy. This is the idea that you can be different from others in a positive way, as described by Atul Gawande in his book  Better.
Recently, I was facilitating some training and the teachers had "homework" to incorporate the ideas of positive deviancy in their teaching practice.
One of the teachers, an art teacher, shared the "Write Something" part with me, and gave me permission to share it here, along with her original art.
Melissa is an art teacher in the Carrollton-Farmers Branch ISD in Texas. After reading this and seeing her art, I think you'll agree that Melissa is a Positive Deviant.
Positive Deviancy in Action
"Ms.!" "Misssss!"
By Melissa James
I read one time in a student newspaper that students' number one wish was that they learned a little more about their teachers. Over this school year, I found that to be true. I have always been sort of distant with my personal stuff. I talk about the art I'm doing at home and sometimes show them my work, but never really shared things like feelings or my thoughts about school.
Each year I have had students do a black and white painting that for technical reasons is good practice for creating value in paint. But the subject is about school. What is their favorite class?, least favorite?, what is their highlight of the day?, etc…. They brainstorm, and then begin the challenge of visually communicating their idea. We create it in a Picasso-ish style so they learn about an artist as well.
This year I created my own art and expressed all the things I juggle in that 55 minute class time. It is a lot of work to balance the needs of 35 students and keep them learning and creating. So my art has students' hands raised needing help, a ruler, erasers, bathroom passes, and me trying to juggle it all. I gave myself four arms and I look like I'm managing, but it doesn't look easy.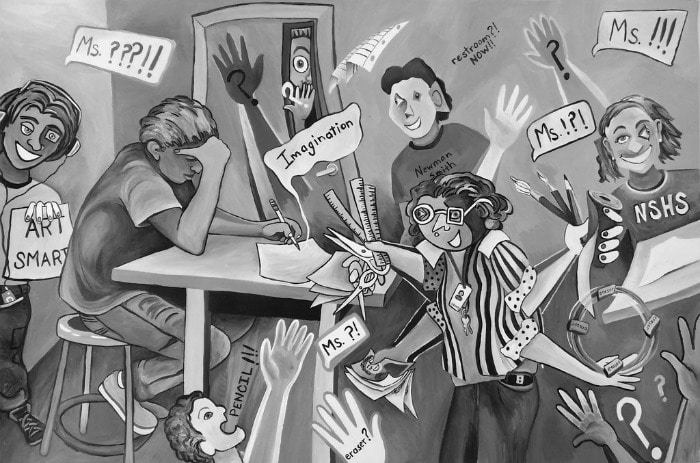 Well, the students really related to the visual illustration of my day. They actually would even refer to it when four people were yelling "Miss!" at the same time. They became more patient and knew that I was on the way if I was not already there.
Sharing just a little bit of my struggle, gave them some insight, created patience and respect, and sometimes they even offered to help. What a gift!