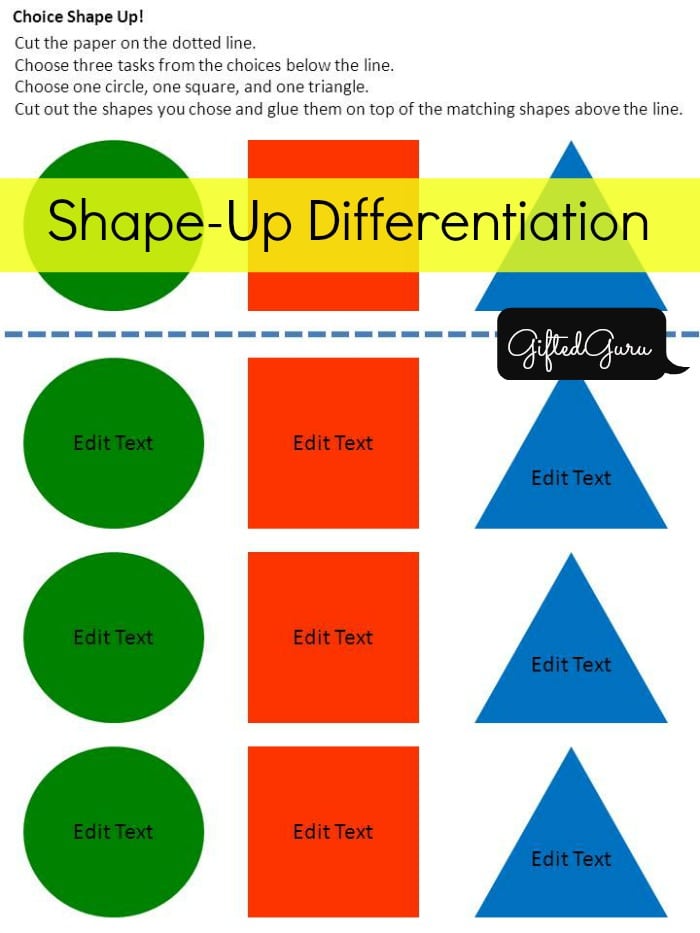 This free printable can help you infuse a little choice into school or home tasks. Simply download the free PowerPoint printable, and edit it to meet your needs.
First, I did not invent this strategy. I read it somewhere. I wish I could remember where so I could credit it. I did create this editable template for you, though, so let's talk about how it works!
The image above is just an image, so don't save that or you won't be able to edit it.
In each of the shapes, type in a choice. If you're using it for school, type in a task or a product.
If you're using it for home, type in a chore choice.
Then, print it out and let the kids follow the simple directions.
Cut the paper on the dotted line.
Choose three tasks from the choices below the line.
Choose one circle, one square, and one triangle.
Cut out the shapes you chose and glue them on top of the matching shapes above the line.
They then do the tasks they chose.
Reasonable choice (you can have too much choice) is a great thing! I hope you find it useful, and feel free to share how you used it.
Again, you can download it here.
Feel free to change it any way that works for you!