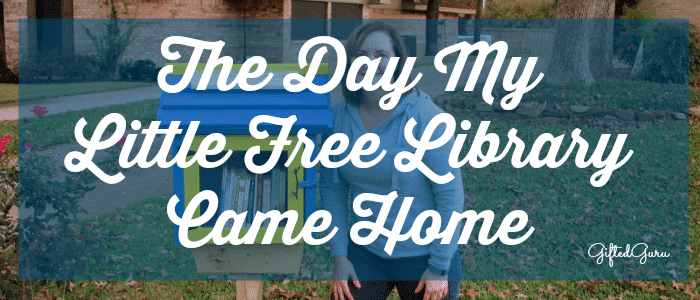 I hope you've seen Little Free Libraries. In fact, I hope you have a Little Free Library in your neighborhood or even in your yard.
If you're not familiar with them, Little Free Libraries were started by awesome Wisconsite Todd Bol, who wanted to honor his mom, a bibliophilic former schoolteacher. He put one in his yard and built a couple for friends.
And like that old shampoo commercial, they told two friends, and they told two friends, and soon the world was filling up with awesomeness. Read more about the history of Little Free Library.
This is the story of Little Free Library Charter 24768 and how it came to be the Ascott Court Little Free Library.
The Dream Begins
I first heard about Little Free Library in 2012, and I wanted one right away.
I mean, like, really, really wanted one.
I like books. I mean, I really, really like books. You can read about some of my adventures in that area here.
I bought the registration (Charter Number 4934), and that was where the story ended. For awhile.
For nearly three years, the little sign sat neglected in the back of a filing cabinet until I could figure out how to build the library on which to put it.
That never happened.
You have to use negative numbers to evaluate my carpentry skills, so the library sign stayed tucked away.
The Dream Awakens
I serve on the Reading Promotion Partners board for the Library of Congress through my role as Mensa's Youth & Education Ambassador.
This March at the meeting, the founder of Little Free Library was there (with an awesome library, actually), and I remembered my forlorn sign tucked away in the filing cabinet. I felt guilty and inspired at the same time. If you're going to feel guilty, I highly recommend accompanying it with a side dish of inspired.
My carpentry skills had not improved, so I decided to start saving my allowance (My husband and I each give ourselves $50 a month mad money). I saved up enough to buy a ready-made library and have it installed (including some birthday money).
I even had enough for a custom stamp and the cutest weather vane you have ever seen.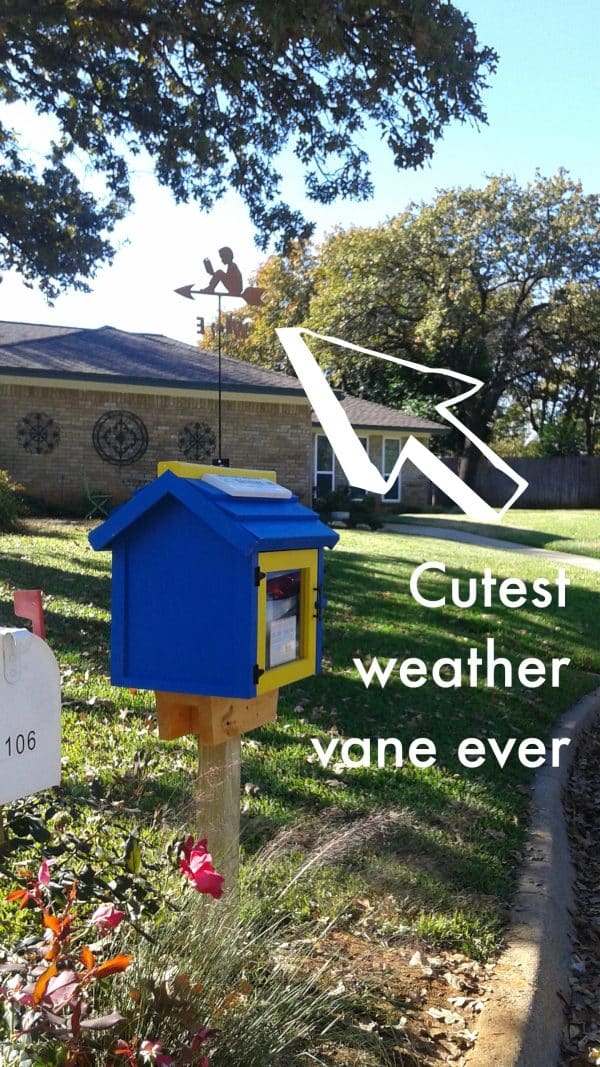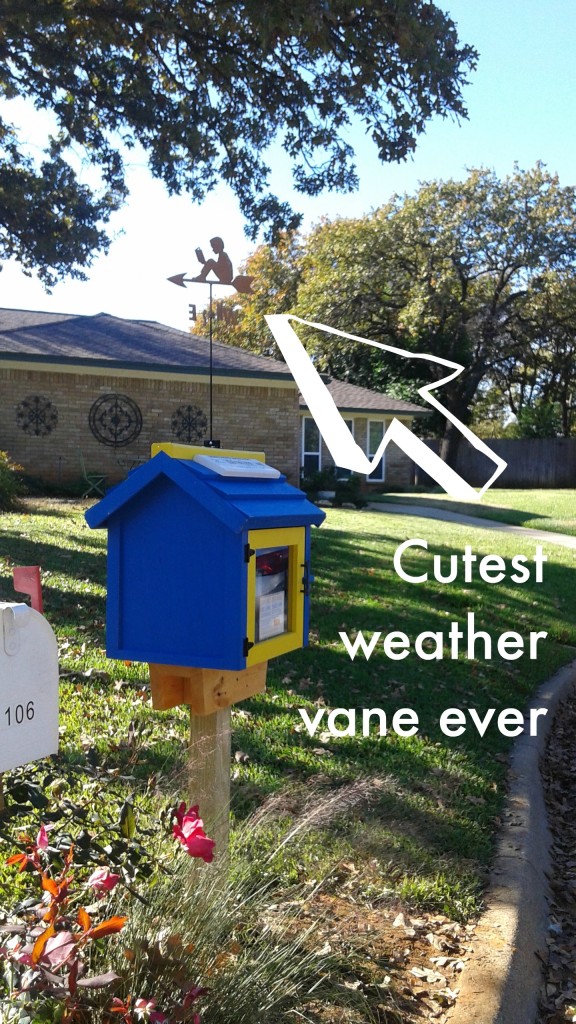 The Dream Comes True
I went to the Little Free Library website and I found the perfect library for sale! It came with books, even! It was the colors of the high school at which I taught English for years. How perfect is that?
I ordered it, and soon there was a big box in my living room.
I hired the man who installed our mailbox to help me install it (he worked while I did a happy dance, so there was a fair division of labor going on).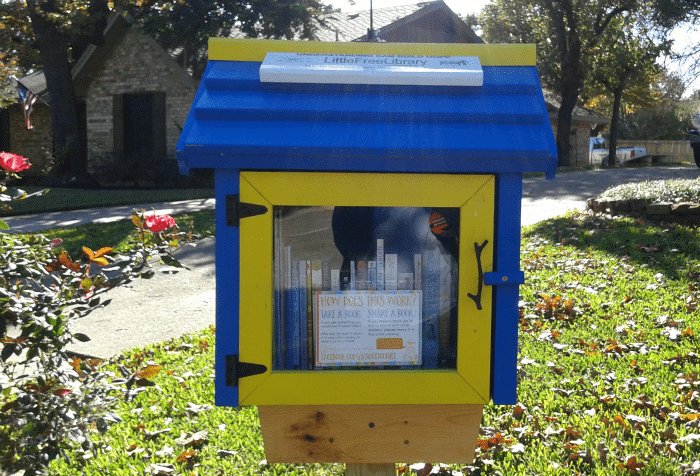 My neighbor even gave me that cute little handle shaped like a twig. See it? So cute.
I made a little sign to tell people what to do with the Little Free Library and taped it in the window.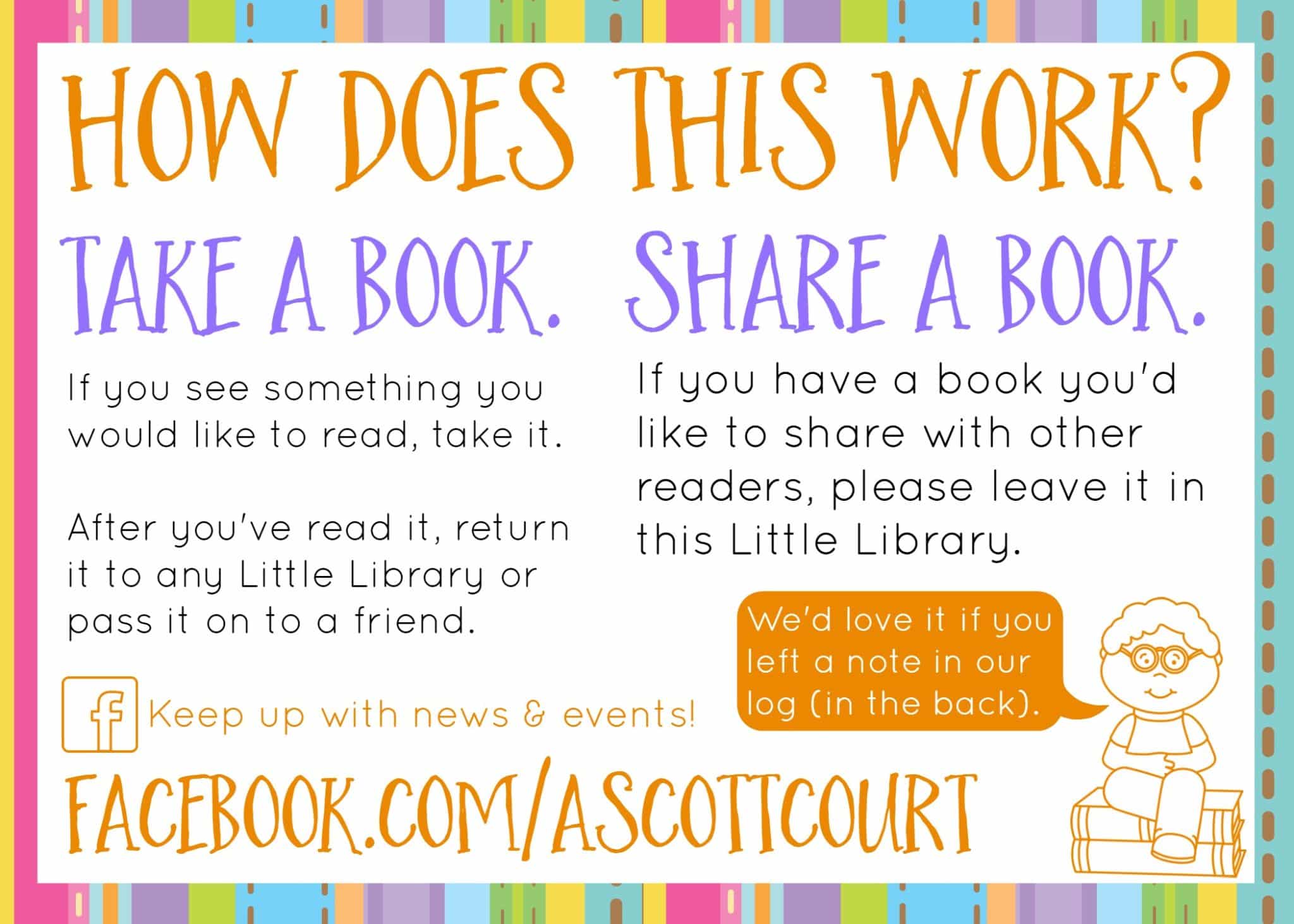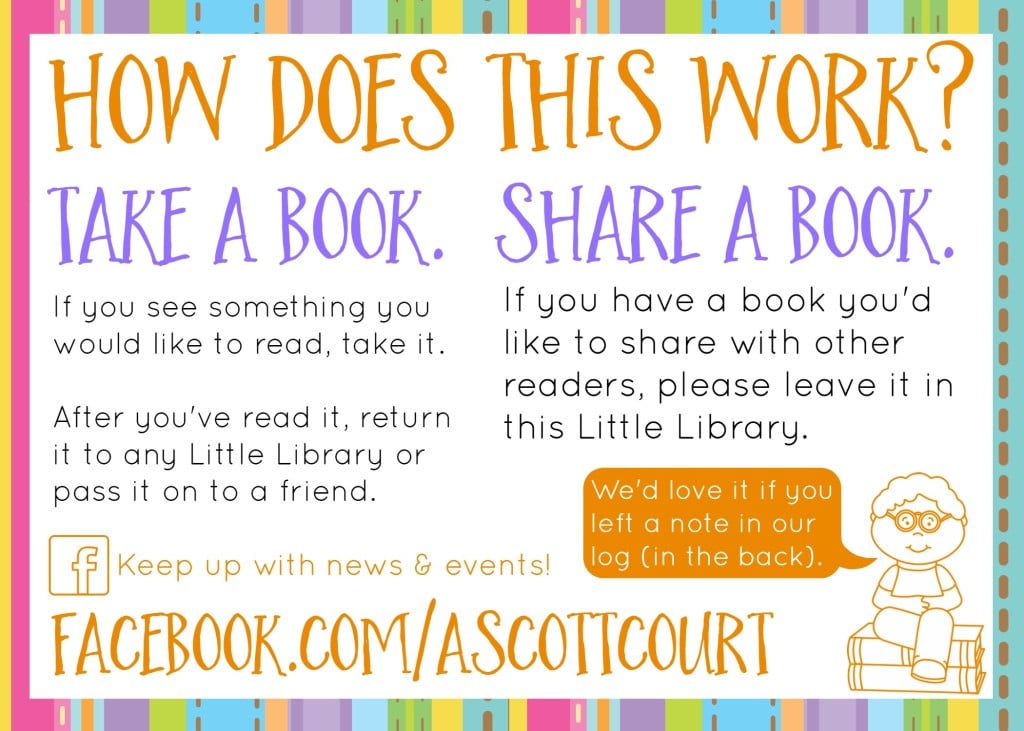 I put a log book in it, as well as little lights so you can browse at night. The log is really in the back tucked behind the books, but I put it in the front for this picture.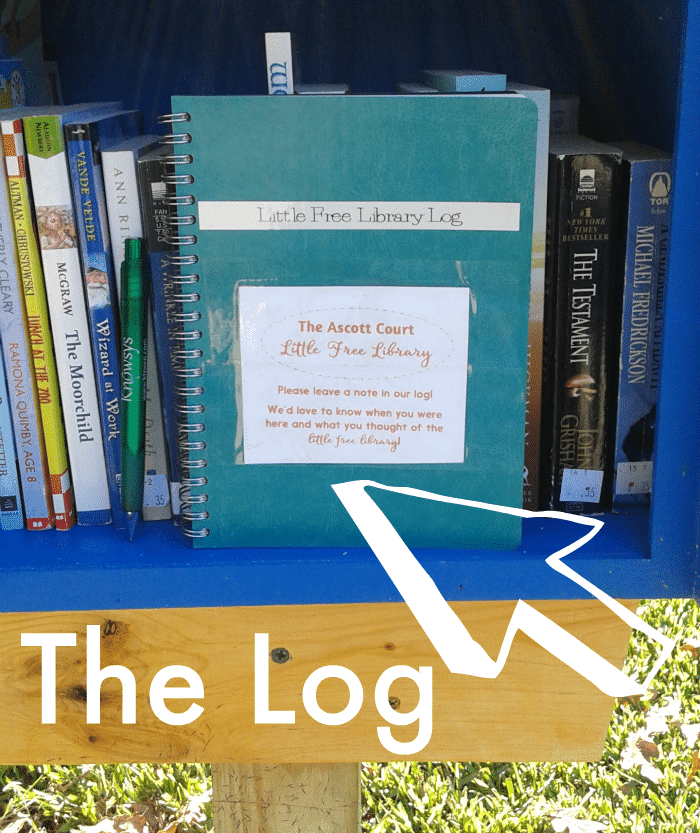 I even made cute little bookmarks to put in it.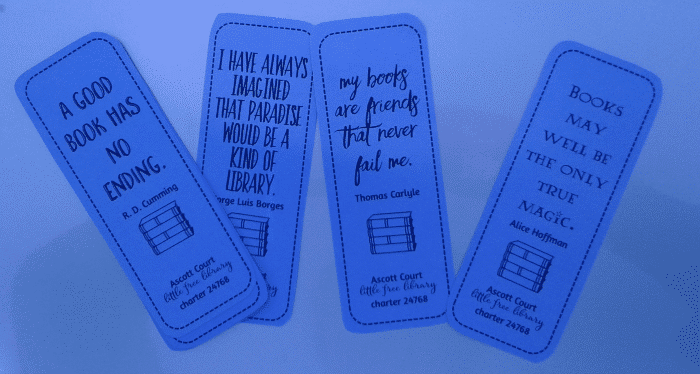 The quality of that photo is somewhat diminished by my having taken it on the trunk of my car. Just bein' real, folks.
I made a Facebook page for the Ascott Court Little Free Library so I can keep the neighborhood (and other interested parties) up to date with happenings and cool Little Free Library stuff.
Sources
If you are going to start a Little Free Library and want to know where I got my stuff, here goes:
Here's where it gets fun
The Library came with a charter, so I still had my lonely charter 4934 in the filing cabinet. Think about it – in January 2013 when that sign arrived, it was 4934. Now, my charter is 24768. Wow!!! You go, Little Free Library!
So, what to do with the charter? They cost about $70 for the wood sign (which is what I have), so I didn't want to just discard it. I decided to…give it away!
This giveaway starts now and goes until the end of next week. All you need to do to enter is leave a comment telling me where you'd put your Little Free Library. I would suggest that "back of the filing cabinet" will not result in a win. (Actually, I'm using some giveaway software to help me ensure fairness).
I'll mail the winner the charter sign and paperwork next Saturday.
Update: Congrats to Sallie F., who won the Little Free Library charter!
My hope
I hope that this little library encourages people to read. I hope it brings a smile to people who see it when they come by. I hope that it will give back to the reading universe, in some small way, all that reading has done for me.
I also hope you'll go find a Little Free Library near you (if you can't visit mine!). This map will lead you.