Although it is the depth of winter in North America, it is mid-summer in the Land Down Under, and what better way to brighten your kids' winter day than a celebration of Australia Day on January 26th?
If you live in the Southern Hemisphere (and especially if you're from Oz), I think you'll really like this.
Australia Day commemorates the anniversary of the First Fleet's arrival in what is now Sydney in 1788.
Every year at this time, the arrival of Captain Arthur Phillip and his ships is celebrated with indigenous dances, fireworks off the Sydney Harbour Bridge, and parties.
You can have your own Australia Day celebration with a few simple activities your kids will love. It'll be bonza, mate, so round up your kiddiwinks and have a bash, Aussie-style!
Australia Day Activities for Anyone
I've got so many ideas! First, let me share ideas anyone can use. Then, I'll share a little something special for those of you with students (as a teacher or homeschooling parent).
Fairy Bread
If you attend an Australian birthday party, you will likely enjoy Fairy Bread, a simple snack that every Aussie child knows and loves.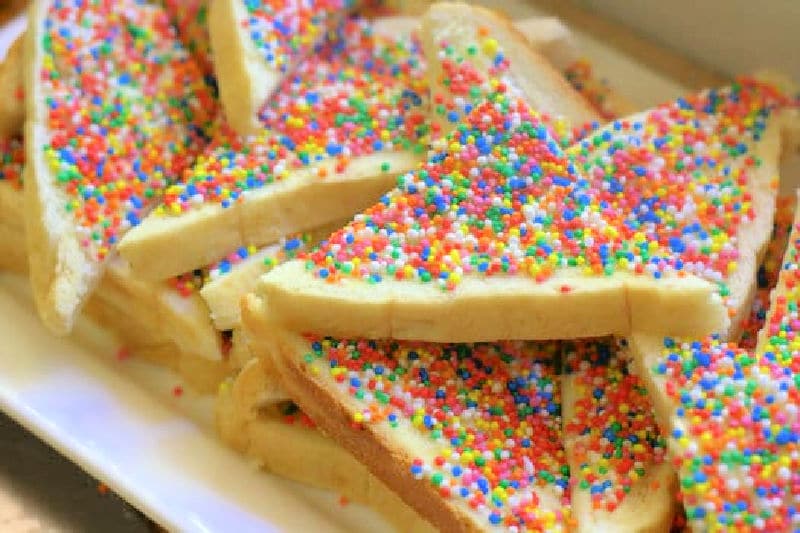 Ingredients:
White bread (oh, come on, you can buy it one time)
Spreadable (or softened) butter
Non pareils (known as Hundreds and Thousands inAustralia)
Directions:
Spread butter on the bread
Sprinkle with the non pareils.
Cut into triangles (or get creative with the cookie cutters for some creative tasty bits!)
Aboriginal Dot Painting
Native Australians are called Aboriginal people. In addition to the Aboriginal people, there are also Torres Strait Islander people who were in Australia for thousands of years before the arrival of the Europeans.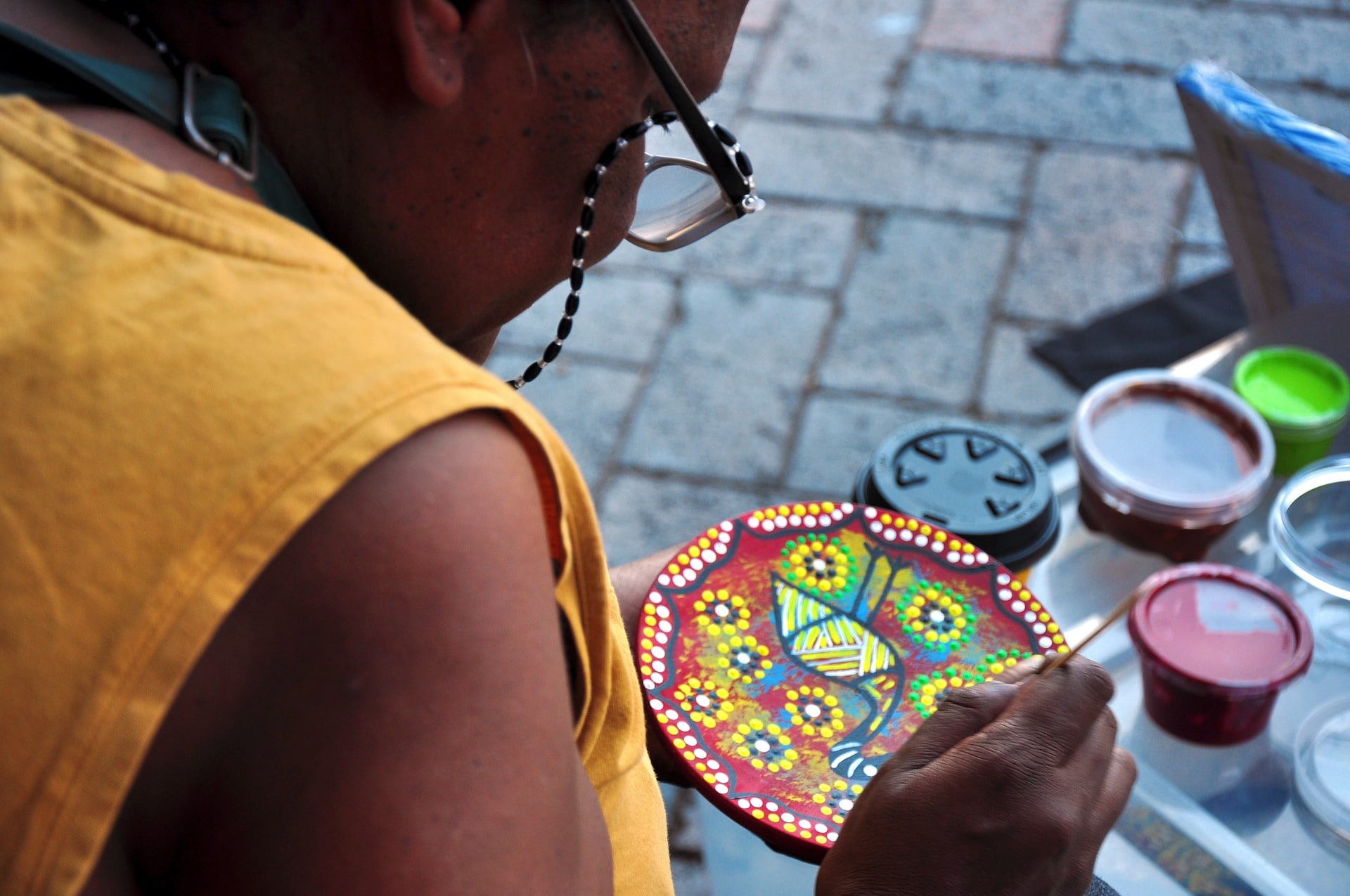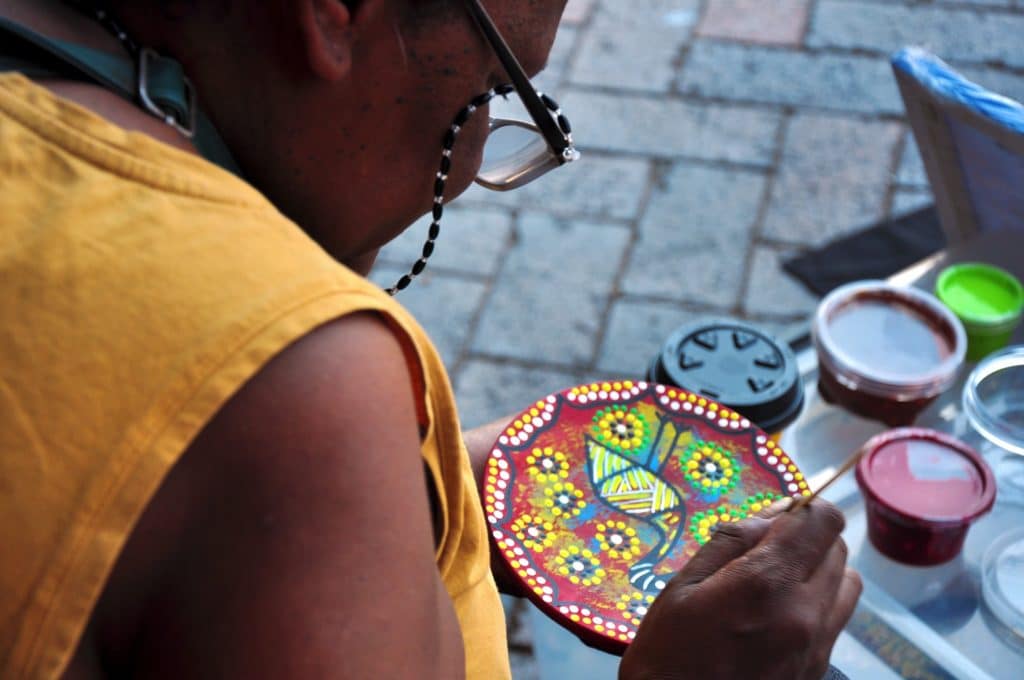 They are well known for their paintings, most of which they make by covering the surface of the painting with lots of dots. They used to make their own paints out of dirt, plants, seeds, and berries, so their colors were often earth tones – mustard yellow, brick red, dirt brown, charcoal black.
Aboriginal people use dot painting to make beautiful designs on everything from boomerangs to digeridoos (a large wind instrument developed by Aboriginal people more than 1,000 years ago).
The Artlandish art gallery has an excellent online exhibit of Aboriginal art that includes lots of history about it.
Materials:
Paper
Paint (put into bowls)
Q-tips (use several in each color of paint – the brushes will belong to the paint, not the artist)
Pictures of Aboriginal art
Coloring pages (find Australian-themed coloring pages here)
Instructions:
Using the Q-tips, have them fill in the inside of the figure with dots, using a straight up-and-down painting motion.
Make an Origami Koala Face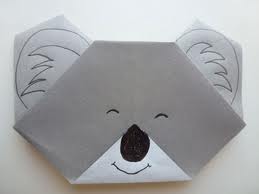 Origami-instructions has the instructions for making this cute koala face! It's my fave origami koala. They have terrific instructions and great photos.
Demonstrate the Coriolus Effect with Paper!
This video shows a very simple way to demonstrate the Coriolus Effect with simple office supplies you have on hand.
How to Speak Strine
One of the most fun things about Australia is the cool way they talk there! Some people think that's why I married my Aussie husband, but that's only partially true. He has many other fine qualities.
"Strine" is the phonetic way to pronounce "Australian" the Aussie way. Here are some Aussie words on the left and the American (Yank) meaning on the right.
| | |
| --- | --- |
| Strine | Yank |
| bloke | man/boy |
| biscuit | cookies |
| bonzer | great |
| brekkie | breakfast |
| chips | French fries |
| G'day | hello |
| good on ya! | good job |
| heaps | lots |
| mate | friend |
| no worries | no problem |
| sheila | woman/girl |
| She'll be right | It will be okay |
| spit the dummy | get upset |
| whinger | whiner |
Australia Facts
Amaze your friends and family with your Jeopardy!-like knowledge of Australia!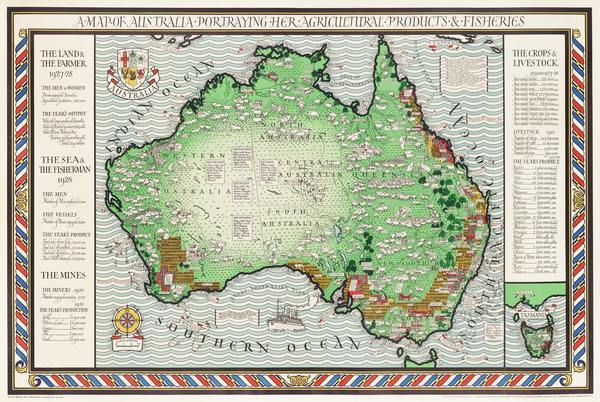 In land area, Australia is the sixth largest nation after Russia, Canada, China, the United States of America and Brazil. It's population, though, is really small!
Australia is the only nation in control of an entire continent and its outlying islands. It is the smallest, flattest continent on Earth. It lies between 10° and 39° South latitude.
Apart from Antarctica, Australia is the driest continent. Did you know that Antarctica is a desert?
The Australian Federation consists of six states and two territories. Most of the borders between the states and territories follow lines of longitude and latitude (except the ones that are the outside – those are formed by the edge of the ocean!). The largest State,Western Australia, is about the same size as all of Western Europe.
The capital is Canberra, but the largest city is Sydney. If you've ever been to Canberra, you will see that they have this cool parliament building that's mostly underground. It's like a hobbit parliament building.
Australia lost its Prime Minister one time. I mean that he disappeared. While he was the Prime Minister. He went for a swim, and boom! Vanished. Strange, but true. Learn more here. Where do YOU think he went?
Learn more about Australia at the CIA World Fact Book. You don't even have to be a spy to read it!
Australia Day Activities for the Classroom
The ideas above can be used in a classroom, of course. They're pretty generically Australia. If you'd like to go deeper into the Australia Day holiday and its significance, I've got a couple of other ideas for you.
If you teach about Australia Day (or would like to), I have a created a special Australia Day activity pack that is packed with critical thinking activities, is culturally sensitive, and even uses the Depth and Complexity framework.
It covers the four core content areas, and it's designed for students in 4th – 8th grades.
Because I love Depth and Complexity so much (here's an article about why you should, too), I base the activities on it. If you don't use Depth and Complexity, they'll still work.
You can buy the pack on Teachers pay Teachers or Amazon if you like, you can grab a free copy of a part of of it, or you can just grab ideas I'm sharing here!
Of course I'd love it if you wanted one to use in your classroom, but I think there's loads of value in what I'm sharing here in the ideas about how I set up lessons. (And of course, there's a freebie!!! You know I love me a freebie!).
I'm not going through everything in the pack because the point isn't to sell you the pack. The point is to show you some things I do when I'm developing activities for students.
Australia Day Writing Prompts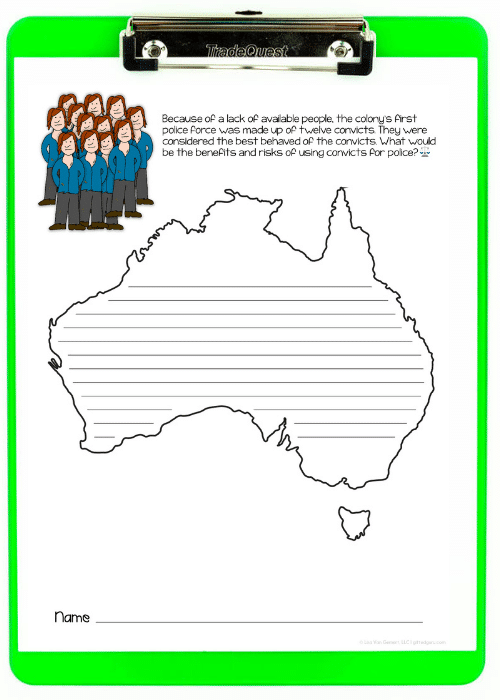 I frequently start units with writing prompts. Even if kids don't know that much yet, I like to get them writing. What often happens is that they have one opinion before they learn, and then they change that opinion. I love how that teaches them that wise people change their minds when they get more information. It's a life skill.
History of Australia Day and the First Fleet
Because Australia Day commemorates the landing of the First Fleet in what came be known as Sydney Harbour, I wrote a three-page non-fiction piece about the First Fleet.
This is a tender topic for many Aboriginal and Torres Strait Islander people, and I have been very careful to address it with sensitivity to that.
If you have students read about Australia Day, it would a kindness to make sure the source approached it from multiple perspectives.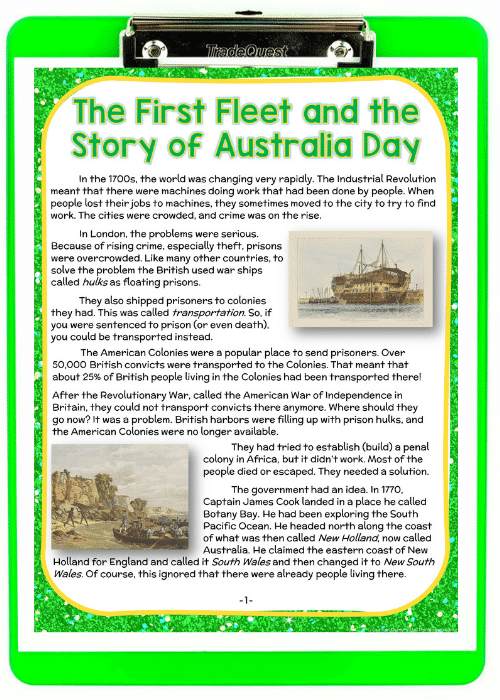 The activity pack actually has two non-fiction pieces. I like to have more than one to accomodate different levels of readers. My favorite line in this piece was, "Of course, this ignored that there were already people living there."
When you have students do non-fiction reading, it's a good practice to vary the form of the writing (longer form pieces, lists, etc.).
After they read this piece (and the other, shorter one), I have them discuss some questions. Sometimes I do it orally. Sometimes I have them do it in writing. Because of The Virus That Must Not Be Named, I make everything that can be digital in digital form.
The discussion questions for the non-fiction piece are no exception. I go through a little process to make the PowerPoint slides backgrounds in Google Slides™ so kids can't mess with it. (I love kids, but they can't resist messing with stuff!). Then I add in text boxes for them to type in.
I make the text boxes a different color or I type "type here" in the box. Both work. I like the colored boxes, but I also like the cleaner look of the other method.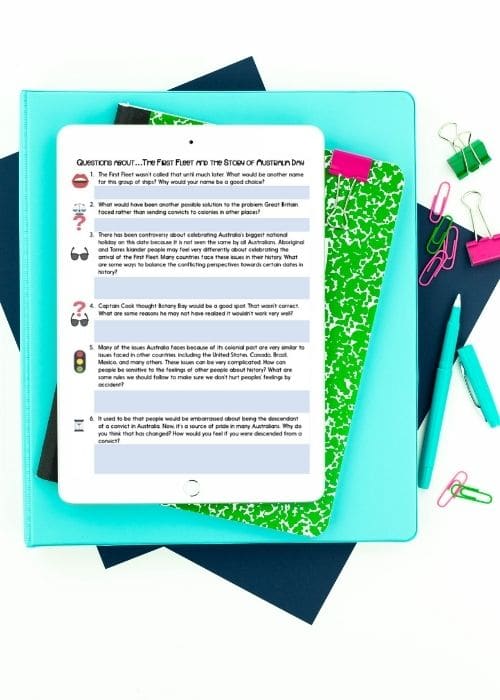 If you use Depth and Complexity, you'll notice that I use emoji instead of the traditional icons. I've got a couple of reasons for that, but even if you don't use Depth and Complexity, the questions are great questions.
Australia Day Depth and Complexity Frames
Frames are a common activity in Depth and Complexity, and I created two for students.
The first is a general frame about Australia Day. You can get this for free in both print and digital forms!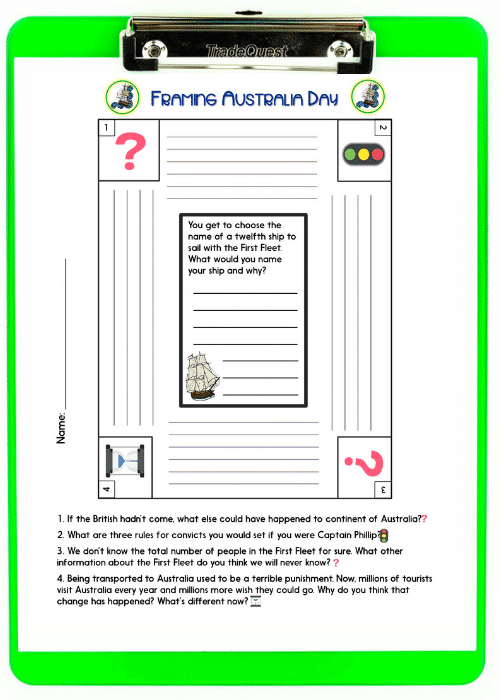 I love frames for their ability to elicit deep thinking in a digestible, non-threatening format. When you're creating frames, keep the questions strong and use graphics to soften the activity. You can see how I have clip art of one of the ships of the First Fleet in the center here.
Remember to grab your free copy of the frame!
Australia Day Image Analysis
Oh, Im such a believer in the importance of students analyzing images. I can't overstate how critical it is to develp deep thinking skills.
Every now and then another teacher will say to me, "I can't believe you spend so much time having them analyze pictures," and I always respond the same way: "I can't believe you don't."
The activity pack I made has two different images. This one is special because my Australian husband took the picture!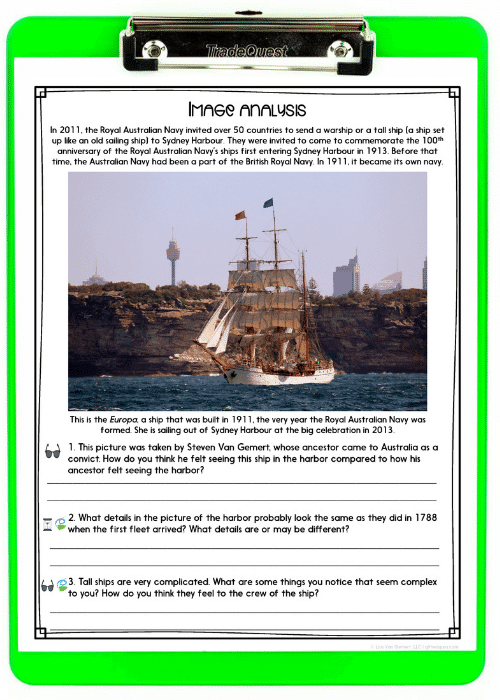 Australia Day Science
You guys, I'm so excited about this part. I truly believe that going across disciplines is the key to building tons and tons of neural pathways in our kids. Who am I kidding? It works just as well for adults!
Because of that, I like to make sure I've got as many content areas as possible in units I share with students. They're never going to get just English or Social Studies (my main content areas).
For this Australia Day activity, I created a super cool science activity (not even going to pretend to be humble about it).
Here's why I think it's so good: it uses great pedagogical practice to integrate a video into a lesson.
You can see on the first page here how I set it up. Notice that there's a scenario. I'm using the Depth and Complexity principle of Disciplinarianism to help the students see the video as microbiologists, rather than 6th-graders (or whatever grade they're in).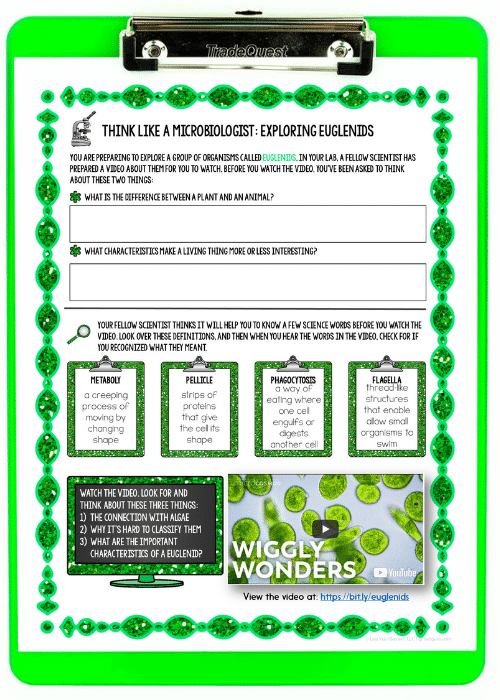 The questions I ask before they watch the video are not factual. They're thinking questions. When you show a video to students, it should never be shown cold. You've got to warm the thinking oven.
There is more to this activity, but I think you can see the setup here, which is so important!
Australia Day Activity Wrap Up:
I hope that you've gotten some ideas of things you can do to commemorate Australia Day. If you make fairy bread, be sure to invite me.
In addition to the ideas about the holiday in particular, I hope you noticed these pedagogical ideas that work for any content:
Start with writing so students learn that wise people change their minds.
Give multiple forms of non-fiction text.
Depth and Complexity frames are great to get high level thinking in a non-threatening way.
Image analysis is a critical skill in every content area. It is worth spending instructional time on.
When you show videos to students, never start cold. Prep them.
Scenarios are a great way to get students engaged. It can make even a very straightforward activity feel somewhat like PBL.
Grab freebies whenever you can!
You May Also Like:
And of course you might like to get the whole Australia Day Activity Pack on Teachers pay Teachers or Amazon for yourself!