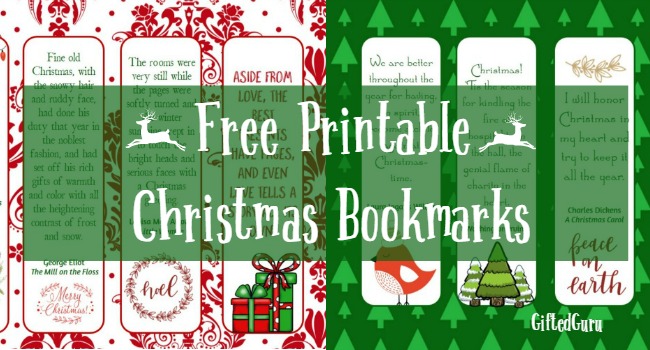 I'm sharing a set of free printable Christmas bookmarks I made with all of you because if you're like me, you're giving some books as gifts this holiday season. I'm sharing some book recommendations, too!
About the Bookmarks
I designed these Christmas bookmarks in color and in black and white (in case you want to save colored ink).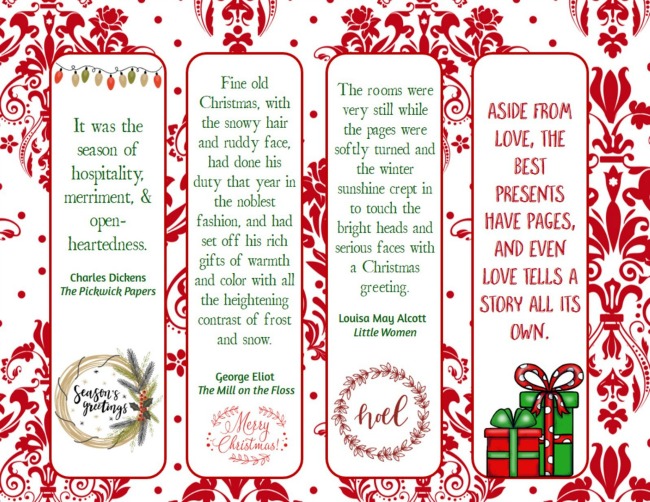 The Christmas bookmarks have quotes from books about Christmas because I love books and I love Christmas. I needed one extra, so I made a quote up myself, but the rest are from authors.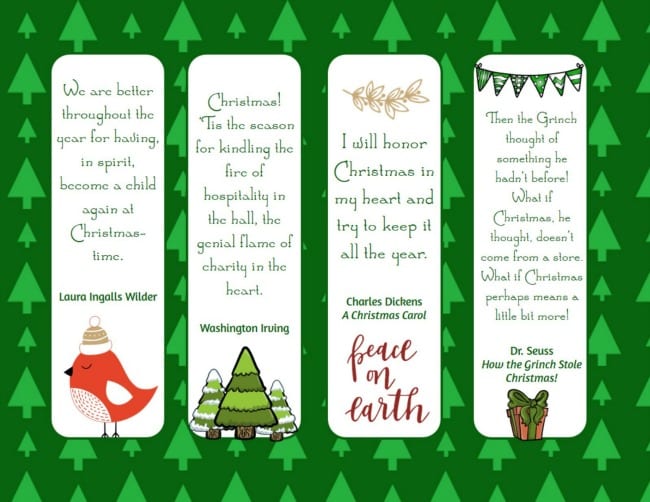 There are twelve unique designs.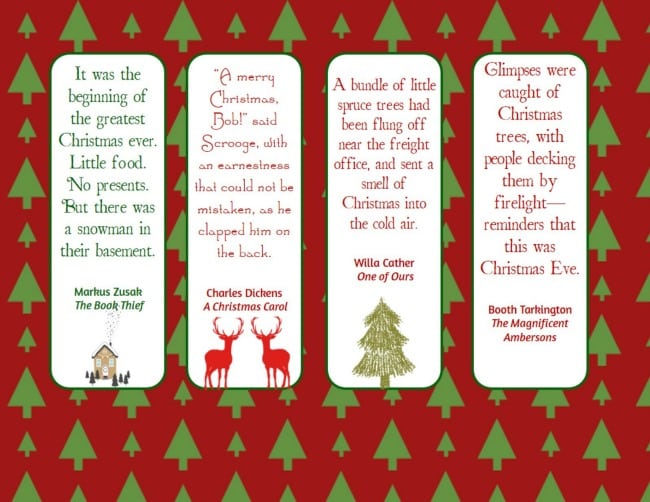 Simply print, cut, and go!
Great Books to Give this Christmas
Picture Books
Franklin & Winston: A Christmas that Changed the World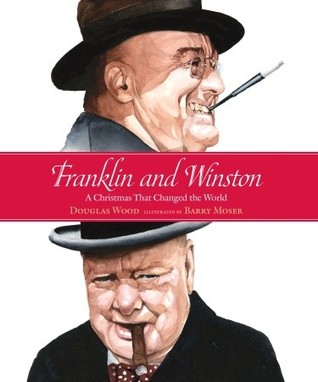 Published by my fave publisher, Candlewick, this book chronicles the month-long meeting held at the height of World War II between President Franklin Delano Roosevelt and Prime Minister Winston Churchill. A little history, a little holiday magic.
The Christmas Miracle of Jonathan Toomey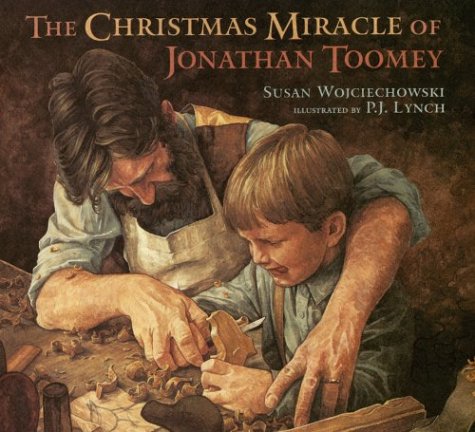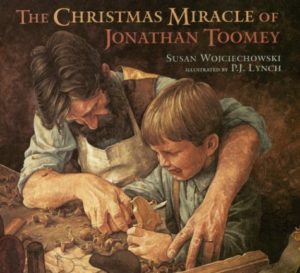 Jonathan Toomey may be the best woodcarver in the valley, but he's as close to the Grinch as you can get. It takes a little boy with an unusual request to move this sad widower out of himself and back to the world. I've read this to my classes year after year, and it's always a favorite. They've made a movie out of it, too, but I haven't seen it.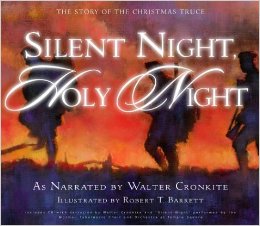 This is the story of the Christmas truce in 1914. It's such a moving story of a moment of peace in the midst of a long war. I cry every single time I read it. I love, love, love this book.
If I had to take one Christmas book with me to a deserted island, this would probably be the one. You can buy the book with a CD or a DVD.
For Slightly Older Readers
Three books that have Christmas as central parts of them are Mandy by Julie Andrews Edwards (yes, THAT Julie Andrews), Little Women by Louisa May Alcott, and Christmas with Anne and Other Holiday Stories by L.M. Montgomery.
If if you buy Little Women, get a beautiful edition of it. It's worth it. I still treasure the copy I was given when I was ten.
I also recommend The Family Under the Bridge, The Best Christmas Pageant Ever, and The Box of Delights.
Happy Reading and Happy Christmas!

P.S. I love Christmas stories so much that I recorded some children's Christmas stories for free download as well. You can find them and read more about each story here.