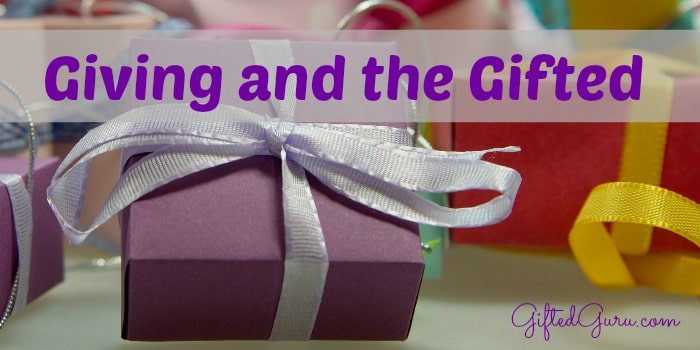 Getting gifted kids involved in giving to charitable organizations and serving in those organizations is key to meeting their social and emotional needs.
Why Giving is Important for Gifted Kids
One of the hallmarks of gifted children is an early, intense social conscience. This is often neglected and allowed to atrophy until it becomes the victim of societal pressures toward avarice and self-centeredness.
Parents and teachers of the gifted should invest time into guiding children and teens on how best to find charities to which to donate time and money. Finding reputable charities that match the child (or group of children's) interests is easy. Charity Navigator rates charities (stick with those earning four stars) based on a number of criteria and lets you search based on interest.
Charities I Recommend
Some charities make better avenues of giving than others for kids. Kids want to make a connection with their giving and the amounts they are donating are typically small. Stick with charities that can put a "face" on the giving and where small donations can make a noticeable difference.
One I recommend is Kiva, a microlending charity in which you can donate the same $25 over and over as it is repaid. You can choose the person the loan goes to by a variety of criteria. If a class can bring (or raise) $1 each, you are off! Other good choices for kids are the African Wildlife Foundation Water.org and Heifer International.
Other Options
You can often get gift cards to charities, so consider requesting one as a gift from grandparents or friends for birthdays or Christmas. The selection of the loan through Kiva or the choosing of an animal to adopt through AWF can be a centerpiece of a birthday party.
If you don't want to deal with money, a terrific option is Soles4Souls, a charity that collects new and gently used shoes for the 300 million children in the world with no shoes. You can collect the shoes and then drop them off at one of a multitude of drop sites – no money needed.
You can also have kids help make things. When I taught third grade, I had a small quilting frame set up in the class. The kids loved tying small quilts. These can be made very simply out of two pieces of fabric with batting between them. You can then bind them with bias tape when they are tied. They can be donated to hospitals or shelters.
The method of giving isn't the important thing. Even the charity itself isn't the important thing. One key idea is that gifted kids feel deeply and profoundly about the world around them. Another key idea is that adults in their lives need to facilitate the translation of that feeling into action. We know they can change the world with their minds. Let's be mindful of their need to change the world with their hearts as well.
Watch this segment of Frontline about Kiva: