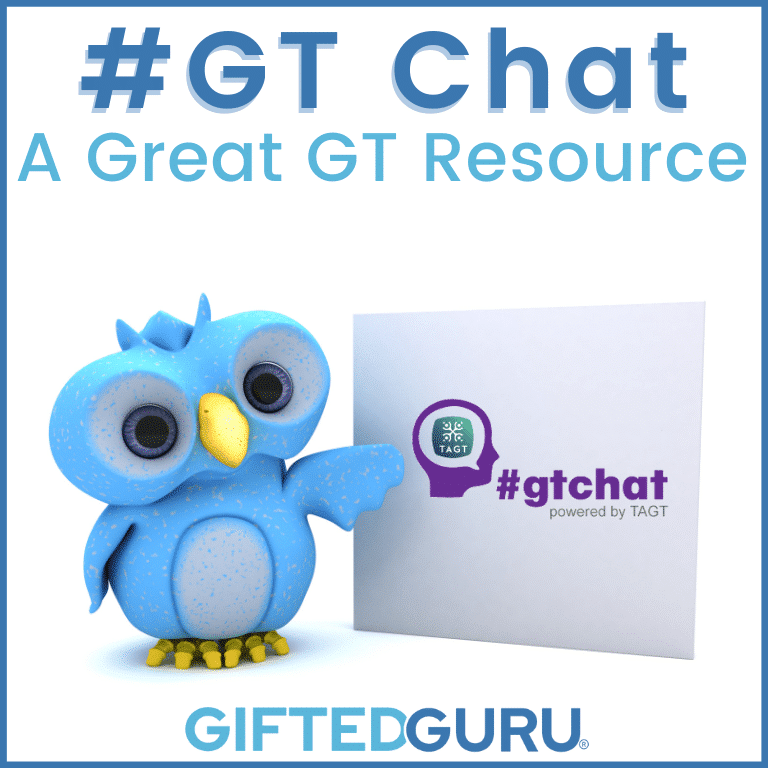 I think #gtchat is a fantastic resource for both parents and teachers of the gifted, and it's time I gave it a little love.
It began as solely a Twitter chat that happened once a week (with a few skips for holidays, etc.), but it's grown to be a community.
You can find it on Facebook as well as Twitter, and I'm going to talk more about the website, because it's there, too.
But what IS #gtchat?
Hashtags are ways communities on social media find each other (you can read about its fascinating history here), and for a long time, it was run by someone who just was doing it on her own. She took a job that took more time, and then TAGT took it over. Since then, the incredible Lisa Conrad has been the moderator extraordinaire.
I think that's right. I could be wrong. Don't quote me. I mean, I know she's incredible; I just don't know if I have the history exactly right.
Now, it's far more than a once a week social media conversation.
What you can find there now
So, every Thursday at 8E/7C/6M/5P in the U.S. (which is Friday at Noon NZST/10 AM AEST/1 AM UK time), there is a Twitter chat where topics in gifted ed and the care and feeding of gifted children is discussed.
Sometimes there are special chats around special events, like conferences.
Sometimes there are special guests, and you can engage in conversations with some great voices.
Now, if you're not a Twitter person, a Twitter chat can be a little firehose-y, so you can read the transcript afterwards at Wakelet.
Want to join in the Twitter chat?
When I participate in the live Twitter chat, you may want to use a free service that filters out everything except the chat (no other feed is coming through) and it adds the hashtag automatically.
To use it, put in the hashtag you want to follow (in this case "gtchat").
It will populate the page with tweets with that hashtag, and if you want to join in, it will automatically add that hashtage to your tweet.
Not interested in Twitter (feel ya), just use Wakelet or the website to keep up with all the goodness.
Why use the website if you are in the chat?
Oh, friend, because the website is pure magic.
When the chat is over, Lisa posts a recap of the discussion along with an amazing list of resources that go along with it.
Here's a screenshot of what I mean from a recent chat on executive function: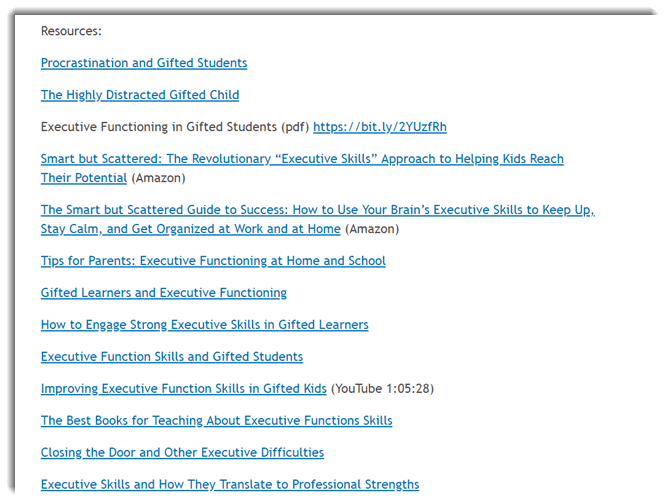 Seriously, if you want to get good at gifted quickly, just read through the resources from some chats. She'll bring you up to speed in no time.
If you can't get enough, she also has her own blog, Gifted Parenting Support.
Wrapping Up:
If you're looking for current information about gifted kids and gifted ed, #gtchat is a must-use resource.
Browse the website to find great info.
Thanks to TAGT for sponsoring #gtchat, and special thanks to the warm and wonderful and knowledgeable Lisa Conrad.
You may also like:
The library of all of the articles I've published in magazines and journals