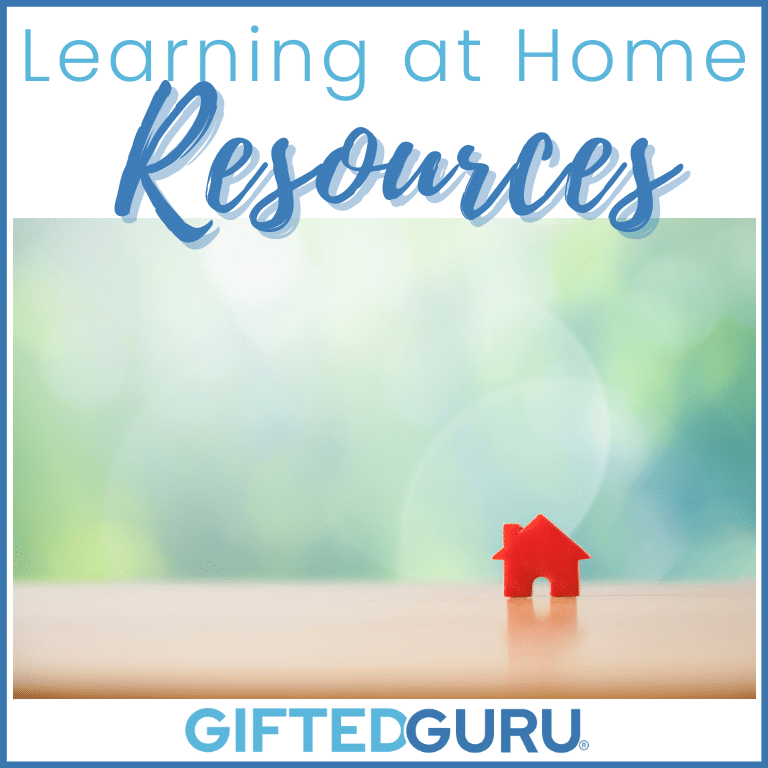 Looking for Ways to Help Kids Learn at Home?
Looking for great, free resources for learning from home? Whether it's due to school closure, summer break, homeschooling, or just wanting to build a house of learning, I'm sharing some great ideas.
Resources are available to help you facilitate learning at home, and most are at the tips of your fingers.
I'm dividing my ideas into two sections: online resources for learning from home and ideas for learning at home that don't involve screens. Everything I'm sharing is free.
For some of the resources, I'm sharing ideas for possible activities students could do with the resource.
I even created an entire online lesson just for this purpose.
Whether you're a teacher looking for things students can do from home, or whether you're a parent looking for quality learning activities your child can do from home, I've got ideas for you.
Things to Consider when Planning for Remote Learning if You're a Teacher
Access:
It doesn't do any good if your students don't have access to it. If you have students with no internet, then skip to the non-internet based ideas below.
If you're a parent, you may be looking for alternatives to screen time. If so, you can scan down to the Non-internet Activities for Learning at Home section.
Length:
One of the biggest constraints in the normal school classroom is time. Take advantage of long periods of time that students may have to do projects they would not normally have time for. Rather than trying to create fifty daily tasks, consider putting together a single, longer-length task. Think projects. Think skill development. For instance, I learned Sketchnoting, and that helps me all of the time now. We can practice typing, writing, note-taking, and other skills that we carry with us no matter where we are learning.
Touching Base:
Some of us already had systems in place with content management programs like Google Classroom or Canvas or the like. If you don't, take a minute to figure that out first. The best ideas will go nowhere if you don't have a way to share or support them.
Online Resources for Remote Learning
The internet offers nearly limitless opportunities for learning from home. They're not all the same level of quality, so I'm sharing some of my favorites.
This isn't a comprehensive list. It's a list of personal favorites, as well as some sites I think you may be less familiar with.
I've divided the resources into content areas, and I've got a cross-curricular section last.
Ideas for Remote Language Arts Learning:
Storyline has picture books being read by celebrities. They're really, really well done, and in addition to the website, there's an app as well. If the main site is down, you can see the stories on the YouTube channel.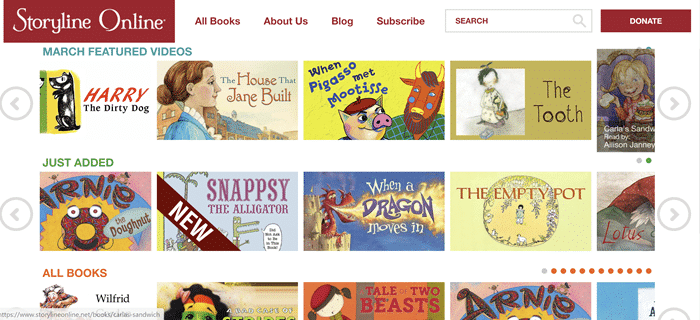 Teaching Ideas for Storyline:
Have students listen to two stories and sketch out a three-oval Venn diagram comparing the stories' narrators, illustrations, and plots.
Students could record themselves reading a favorite book in Flipgrid and create a class equivalent of Storyline. Other students could then listen/watch. To strengthen this, have students do it once, have the teacher or other students give three tips to make it even better, and have the student re-record it. I'd create a separate grid for the redo.
The Year of Living Poetically program I created while I was the Youth and Education Ambassador for Mensa has a number of poems that are explicated and have helps for memorizing them. Some are not appropriate for littles, so choose with care, but even young children can memorize poetry. I've written about why they should.
The Library of Congress has recorded the authors who have spoken at the National Book Festival and made those recordings available. Students can choose an author, watch the recording and then respond to the recording in writing. Some possible prompts include:

How did your view of the author shift as you watched the webcast?
Think about whether you were more or less interested in reading the author's work after watching the webcast and explain what you think influenced that feeling.
Describe the similarities and differences between the author's voice and the narrator of works you've read by the author.

Poetry 180 is another terrific offering of the Library of Congress. Students can read info on how to read a poem out loud, choose a poem, and then record themselves reading it.
Ideas for Remote Math Learning:
Ideas for Remote Science Learning:
Ideas for Remote Social Studies Learning:

The Smithsonian's History Explorer site is a favorite. Ideas for using this site include having students virtually curate their own museum. This project-based experience could include everything from creating selection criteria, making the selections, designing displays, and creating a catalog.
You could get an entire social studies education at the National Archives. Seriously, it's amazing what they offer. One of the most valuable parts in my opinion is the guide to teaching students to work with primary source documents.
Google Arts and Culture may be the most underused resource on the internet. The ideas are endless (I mean, seriously, warning: you'll get sucked in), but here are a few just off the top of my head.
Ideas for Remote Learning in Multiple Content Areas: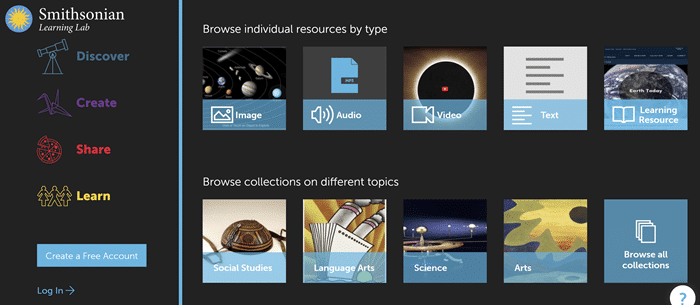 PBS has an entire site for the Ken Burns collection. There are documentaries, documents, and media libraries. It's searchable by grade and content area and standards. So wonderful.
Non-internet activities for learning at home
What's interesting is that the most effective learning experiences at home are just being mindful of daily life and seeing the learning in everyday experiences. I really learned this when I was homeschooling while we lived in Germany.
Here's what I mean:
Cooking:
Have children cook with you. Cooking is science and math and language arts and social studies. They can:
Figure out how to double a recipe.
Identify what kind of food it is (culture).
Think about the process that is cooking the food. How much heat did it take? How long? Play around with the temperature and time – what happens if you cook it longer at a lower temperature?
Have them rewrite the recipe to make it easier to follow.
Have them record themselves making the recipe with you as if you were a cooking show.
Let them go through cookbooks and choose some recipes to try.
Have them create a month's menus and corresponding shopping list.
Home Management:
Make your own cleaners.
Test the bacteria in your house. Here's a great article on a few ways to do that. Then test with different cleaners for practical science!
Try to find the most efficient ways to clean. Can you find a faster way to change the sheets? Can you test different dishwashing liquids? Can you try different ways of cleaning baseboards (foam paint brush, dust cloth, dryer sheet) and compare which works best?
Do a big organizing project on the garage or attic or closet, taking time to take measurements.
Create a photo catalog of the entire house. Have them take photos of everything in every room. It sounds crazy, but it really gives you a feel for how much there is.
Have them create a catalog of all of their toys, including a photo. Note how long they've had it, how often they play with it, why they think it's fun, how it benefits them, etc.
If they're old enough, have them engage with household finance. Our kids were very involved in our family finances, and teaching them about how much of the household budget goes to different areas is helpful. Have them create a budget and even do pie charts of where the money goes. Caveat: If the family is in financial crisis, don't do this.
Games:
Board games are the bomb. They build relationships, teach important social skills, and, if you pick the right (?) game, can last for hours (days that feel like years…).
Consider playing War, but not letting the child take the hand unless they can tell you by how much they won. Here are the rules for War.
Learn a new card game.
Learn how to play a game that is complicated that you don't normally have time to play.
Play two games simultaneously.
Complete puzzles together. Try different methods (Edge first? Sections first?). Time yourself completing a puzzle, then take it apart and time the solving again. How much faster were you? Why do you think you were faster? Repeat. Compare the rate at which your speed is increasing. Are you getting faster at the same rate, or is it slowing down/speeding up?
Reading:
You thought I'd pick this first, didn't you? It's the best and easiest of all at-home analog activities.
In addition to straight up reading, consider having kids:
Organize the home's books
Create a reading plan for someone in the family
Write book reviews (see my how-to's for that)
Try a completely different genre
Re-read a favorite from much earlier
Read to you while you do something that doesn't require thinking
Outside
If you're blessed with a yard or garden, the possibilities are endless.
Do a quick search of "backyard science activities with kids" and I'll see you again in five years.
Kids can obviously help to maintain the yard, but they can also:
Create a catalog of the plants growing, taking pictures of what they look like, recording how old the plant is (may require a guess), taking note of any signs of disease or misplacement.
Draw a plan of the yard to scale. If you have a copy of your home's survey, that's even better because they can trace it.
Photograph the yard from interesting angles, getting really close up, and have people guess which plant it was.
Wrapping Up:
Learning from home can be rewarding and fun and offers a depth that is hard to beat. Hopefully these resources for remote learning will be helpful to you.
If you've got ideas, I'd love to hear them!
If you found this article helpful and want to stay in the loop with ideas, I'd love to have you join the thousands of like-minded people who get my emails with ideas and freebies and general goodness. You can sign up here.
You May Also Like: