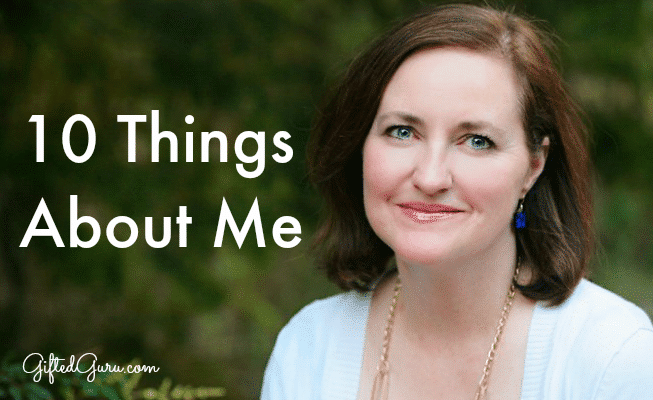 I love meeting people in real life who I know from this site at speaking events or conferences, yet I know that I will never have the opportunity to meet most of you in "real life."
I also have people I follow online who I feel are my "friends," even though we've never actually met. There are people on YouTube whom I follow who have no idea I even exist, but if they met me in the mall, I'd expect them to recognize me. Not that I, you know, go to the mall.
Because of that, I thought I'd take a moment to share a few things about me, so you know the person behind the platform. I hope you'll tell me the things we have in common!
Ten Things about Me
10. I am from California.
I was born in Newport Beach, and we lived all over – even on a boat!
This is how cute I was when I was really little. Dig those knee-high red socks!
And this is what I looked like in 11th grade. Do you love that '80's hair? And the puka shell necklace? I wish I still had it, actually.
9. My husband is Australian.
Because he's from Sydney and all of his family lives there, we get to visit sometimes. When we go, my favorite place is this wildlife park where you can pet kangaroos and koalas.
One of our favorite things to do when we're there is to climb the Sydney Harbour Bridge. You can see forever up there, and it's not as scary as you would think it is, even if you're afraid of heights.
Australia is as fun and amazing as you've heard, and it has to be because the flight is super long! From the Dallas airport to Sydney, we take a direct, nearly 17-hour flight. Upside: you get to catch up on movies!
8. We have three sons and one daughter-in-law.
Our son Gregory lives in Grapevine and is a senior business analyst for Capital One.
Our son Jonathan lives in Orem, Utah, and is a software engineer.
Our youngest son, Joseph, is in college. He's in ROTC and will be in the Army when he graduates.
In January of 2015, our oldest son, Gregory, married Jennifer, and I finally got a girl!
7. I love dogs, and we have a golden retriever named Brody.
This is Brody when we first got him. He will be ninety pounds when he is fully grown! He's training to be a therapy dog, so he can come to school and help kids not feel anxious.
6. I absolutely love office supplies, especially my labeler.
I label everything! If I can, I alphabetize it, too, like my spices here in the cabinet!
If you come to my house, you will see all of my labels.
5. One of my hobbies is baking cakes.
Here is a cake I made for the Groom's Cake at a friend's wedding (She's a teacher, too.).
4. I love books and could read forever if I had enough snacks.
I like books so much, I even have a Little Free Library at my house!
3. I lived in Wiesbaden, Germany and speak some German.
Wiesbaden is really beautiful, and I miss the bread desperately. I love the German language, and I practice as much as possible. Don't be surprised if I throw out some German without notice.
2. I'm pretty much famous for my homemade macaroni and cheese.
When people get sick, I always make them macaroni and cheese. Here's some mac and cheese ready to go (with green beans, too, because we've got to be healthy!).
I will probably bring mac and cheese to class at least once because mac and cheese.
1. Teaching is my favorite thing to do, and I even teach Sunday School!
This is one of my students when he won the Sprite Vocabulary Challenge. I also picked out his wife for him! He married another one of my students after I introduced them in 10th grade!
If you look closely, you can see the painted ceiling tiles in the classroom. Students painted all of those with quotes from books we read.
I think teaching is the most amazing job in the world.
Thanks for taking the time to get to know me, and I can't wait to get to know you, too! Be sure to tell me if we have any of these things in common.