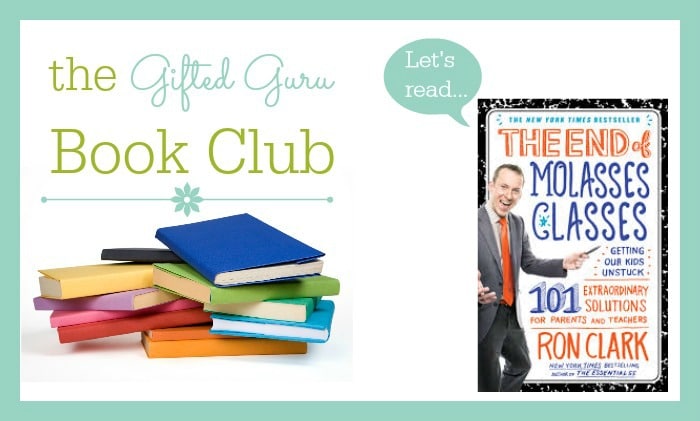 The End of Molasses Classes  by Ron Clark (the education phenom who also wrote The Essential 55) found its way to me circuitously.
YouTube recommended a video of a classroom decorated like Alice in Wonderland to me because I'm a total nerd who spends her freetime watching videos about classroom organization and decoration. It's a thing.
Through that video, I found the Ron Clark Academy and then this book. This amazing book. Sigh.
In this book, Clark shares 101 ideas for invigorating classrooms and schools, incubating character in students, and helping parents support, rather than sabotage, their children.
As an educator, some of the ideas are hard to accept, no matter how true you know they are. The difficulty arises from this idea: it all takes time. The reality is there is only so much of that.
As I read the book, I realized that Clark isn't saying you need to do all of these things all of the time. Rather, you build a toolbox of ideas and pull them out like Mary Poppins when the time is right.
Some things, like the core principles and values of the Ron Clark Academy (RCA) he shares, aren't things to do as much as they are ways to be. He illustrates the ways to be using compelling, inspiring stories.
How It's Set Up
The book is divided into four parts:
RCA's Core Principles and Values
The Role of the Parent in the Success of the Child
Creating the Right Climate and Culture
Reaching Out Beyond the Classroom
All of the sections are of value for all audiences. If you are a parent, it's worth reading the teacher parts, but keep in mind that these are ideas, not a benchmark for every teacher to meet. Clark readily admits he's been able to accomplish all he has partly because he is single and has no children to take care of.
If you're a teacher, it's quite inspirational to read about a teacher who is willing to say that kids are worth everything we've got to give. I found myself thinking about how I could transfer the ideas from Clark to my classroom. Would they all work for me? No, and that's okay.
That's the one downside I see to the book – it's not realistic for the typical person to accomplish all he describes, and it could create a defeatist feeling if it were read as a "you must do this" as opposed to "consider which of these things you can do." But you know, I think that's the same for all books of power, so it's not a criticism.
I can't build a slide in my classroom like the one at RCA, but I'm not focusing on that. I'm focusing on what I can do. I can bring in play. I can bring in the unexpected. I can make learning a celebration. I can do all of those things.
The biggest danger is that you will want to leave your school and state, move to Atlanta and start jumping on desks alongside all of the teachers at RCA.
What I Learned
I can have high expectations of myself, and it's fair for parents to have high expectations of me.
Reading this book, I felt validated in many of my ideas that colleagues have thought were a little crazy.
I felt inspired to try some ideas I'd never considered.
I felt grateful that he took the time to write this book.
I felt challenged to figure out a way to take students places.
That's a lot for one book to accomplish, and this one did it.
If you're a teacher, get it now. Put it on your Amazon wish list. Buy it with your allowance. Do what it takes. You owe it to yourself to own this book.
Ron Clark, thank you for this. Thank you.
Worth Reading Rating System Rating: 5

Note: I use Amazon affiliate links in some of my posts. That means that if you buy something, I could get a few cents, although it costs you no more.