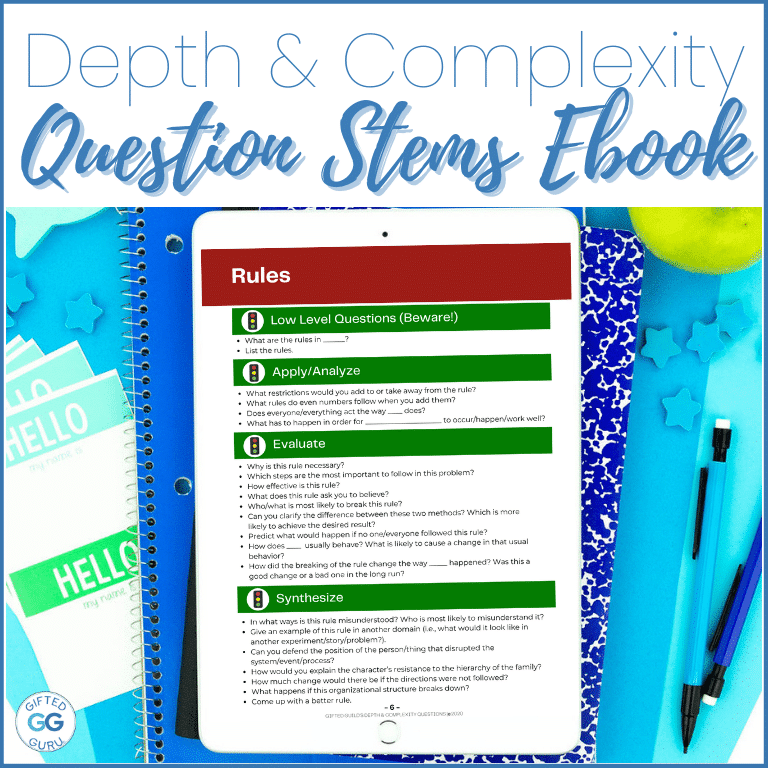 You know by now that I'm a big believer in the Depth and Complexity framework.
Big. Huge.
Ian Byrd and I wrote the book on Depth and Complexity, and it has been very popular because it's so useful and practical.
I mean, it's not every education book that has teachers tweeting out pictures of their tween daughter reading it.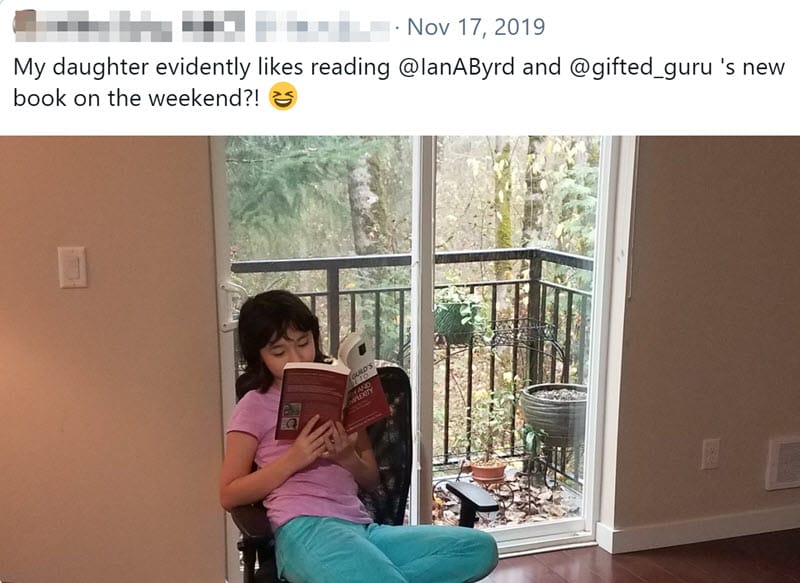 The Value of Depth and Complexity Questions
One of the most important and valuable parts of the book is the section of each chapter devoted to depth and complexity question stems and question examples.
In teaching, questions are where it's at. We know that, and we know it's hard to find great questions and question stems that aren't tired, same-y, or shallow.
If you just do an internet search for Depth and Complexity questions, you will instantly be bombarded with a bunch of "what-itis" – questions that use Depth and Complexity elements and prompts, but keep the thinking too shallow.
We see things like, "What is the pattern you see in this story?"
Sigh.
I mean, that's an okay question, but if you just wanted okay, you'd just teach like everyone else. The power of Depth and Complexity is its ability to raise thinking, not just use pretty words.
So we wrote questions. A lot of questions. We used questions we'd asked our students. We crafted questions just for the readers. We wrote so many questions. There are questions for days in the book.
Teachers figured out the value of these questions right away.
We saw tweets like this one, showing a teacher holding the book open over her arm while she taught.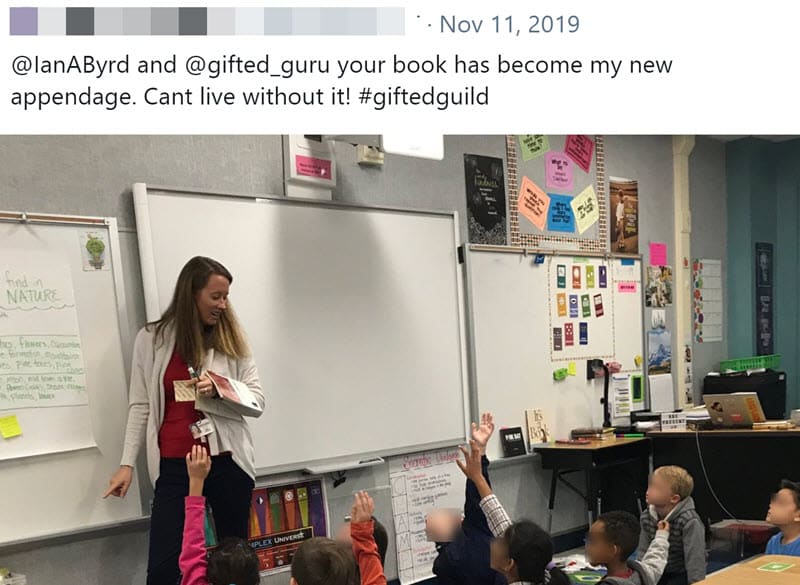 It's so cute to see this, and yet we realized right away that may not be the *best* method.
Depth and Complexity Questions Ebook
We got the idea to do a separate ebook of just the questions when a reader wrote asking for it. Nothing like a direct request to give you a great idea!
So I got to work. First, I pulled out all of the questions in the book and made sure they were organized by section.
I gathered questions and question stems for:
all eleven of the prompts (Details, Patterns, Multiple Perspectives, etc.)
all five Content Imperatives
different disciplinarian disciplines
the four core content areas
I created a downloadable ebook that is divided into four sections, each one with these questions.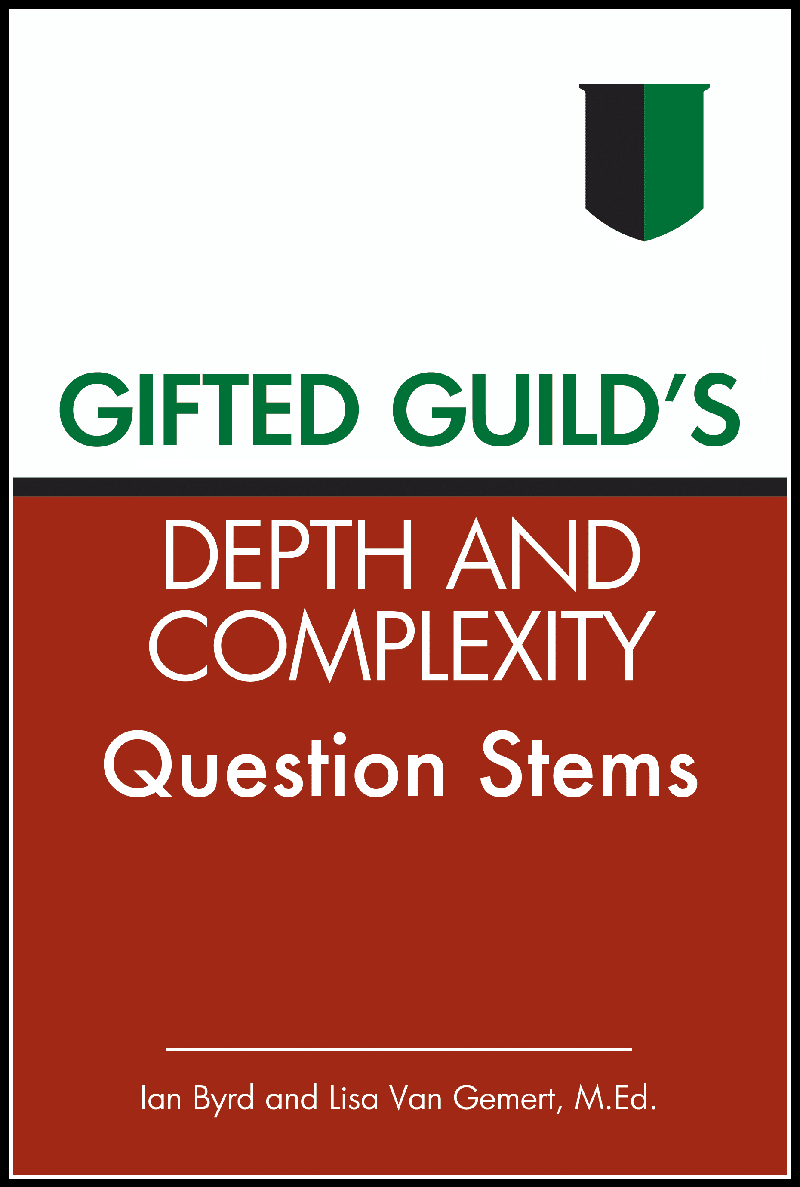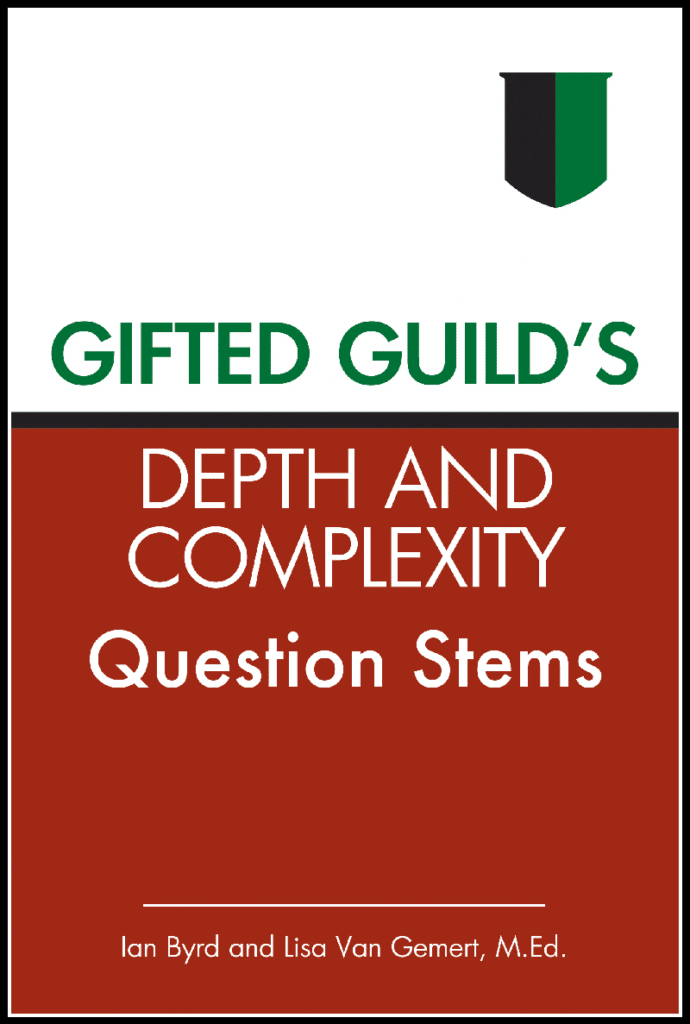 For the section on content-based questions, for example, you'll find a full page of questions about math, a full page of questions about ELA, half a page of science and half a page of social studies.
For the disciplinarian questions, we've included the following disciplines: mathematician, economist, biologist, writer/editor, geographer, and sociologist.
As I was working on the project, I realized that I had ideas for other questions that weren't in the book, so the ebook has a number of bonus questions, too!
As you use these questions and question stems, you'll develop your own questioning style. They will prompt you to create your own questions and help you develop your Depth and Complexity practice.
Using the Depth and Complexity Questions Ebook
Because it's an ebook, you can simply use your phone or tablet or other device to view the questions. You can scroll and search and play around easily (no need to hold the book over your arm, no matter how cute that is).
Even though I wrote it, I found that I was referring to it again and again. I ended up printing it out and assembling it.
To do this, I printed out all of the pages. Each section is separated by a green section break page, so it made it easy to see at a glance what I was looking at.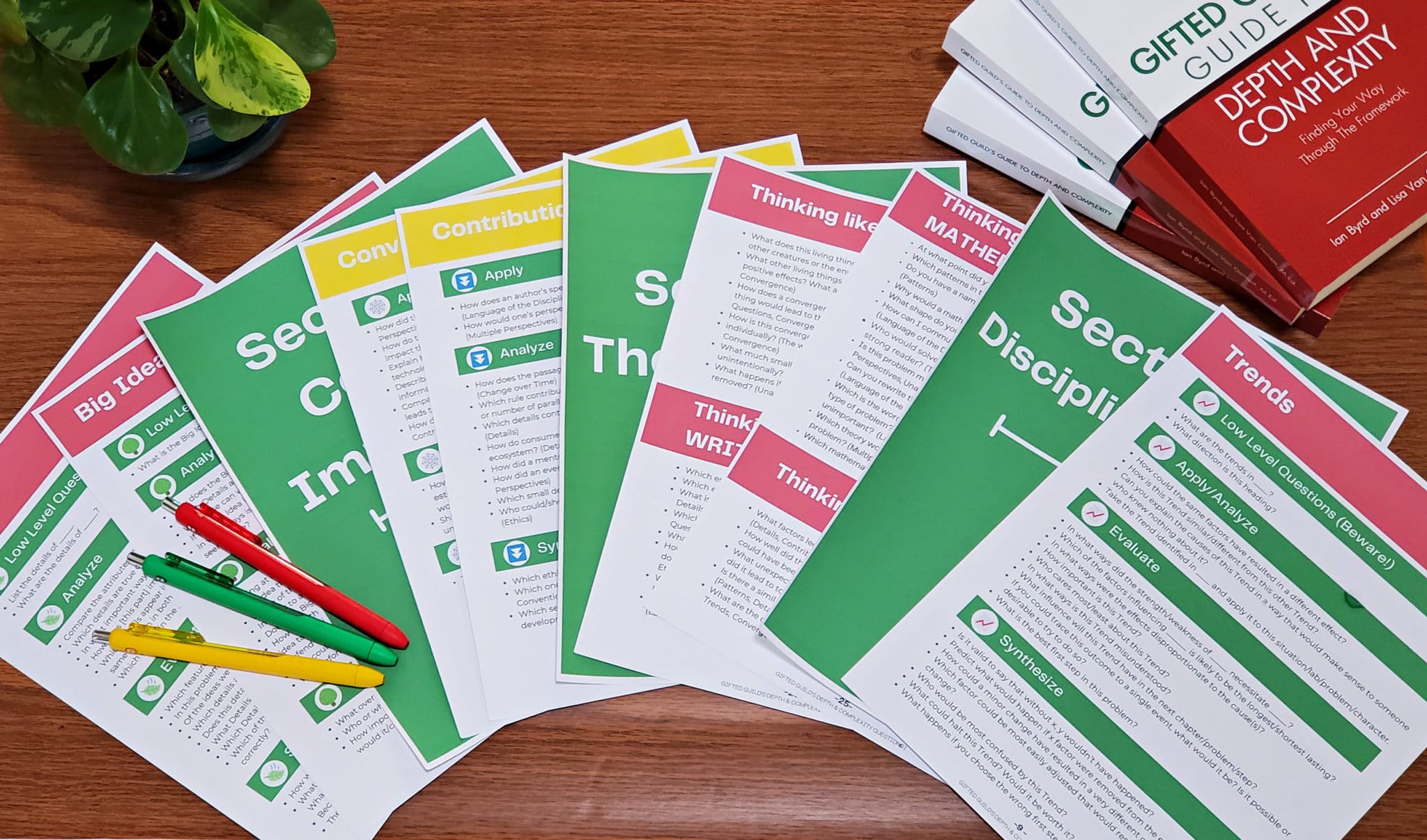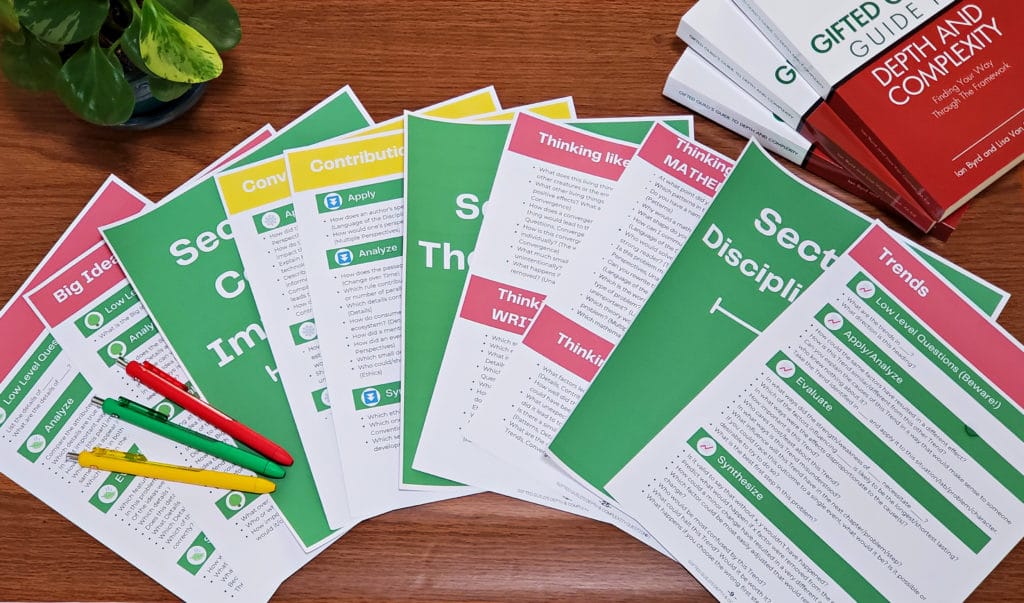 Next, I laminated all of the pages. I just love lamination. Anyone else? Not a lot makes me happier than good lamination.
I put two pages together, back-to-back, and laminated them, so each sheet of lamination film held two pages of the book. (True story: I found tons of lamination sheets at Aldi a few months ago! Random Aldi goodness is a thing.)
I then used a hole punch to punch the upper-left-hand corner of each sheet and connected them with a metal ring.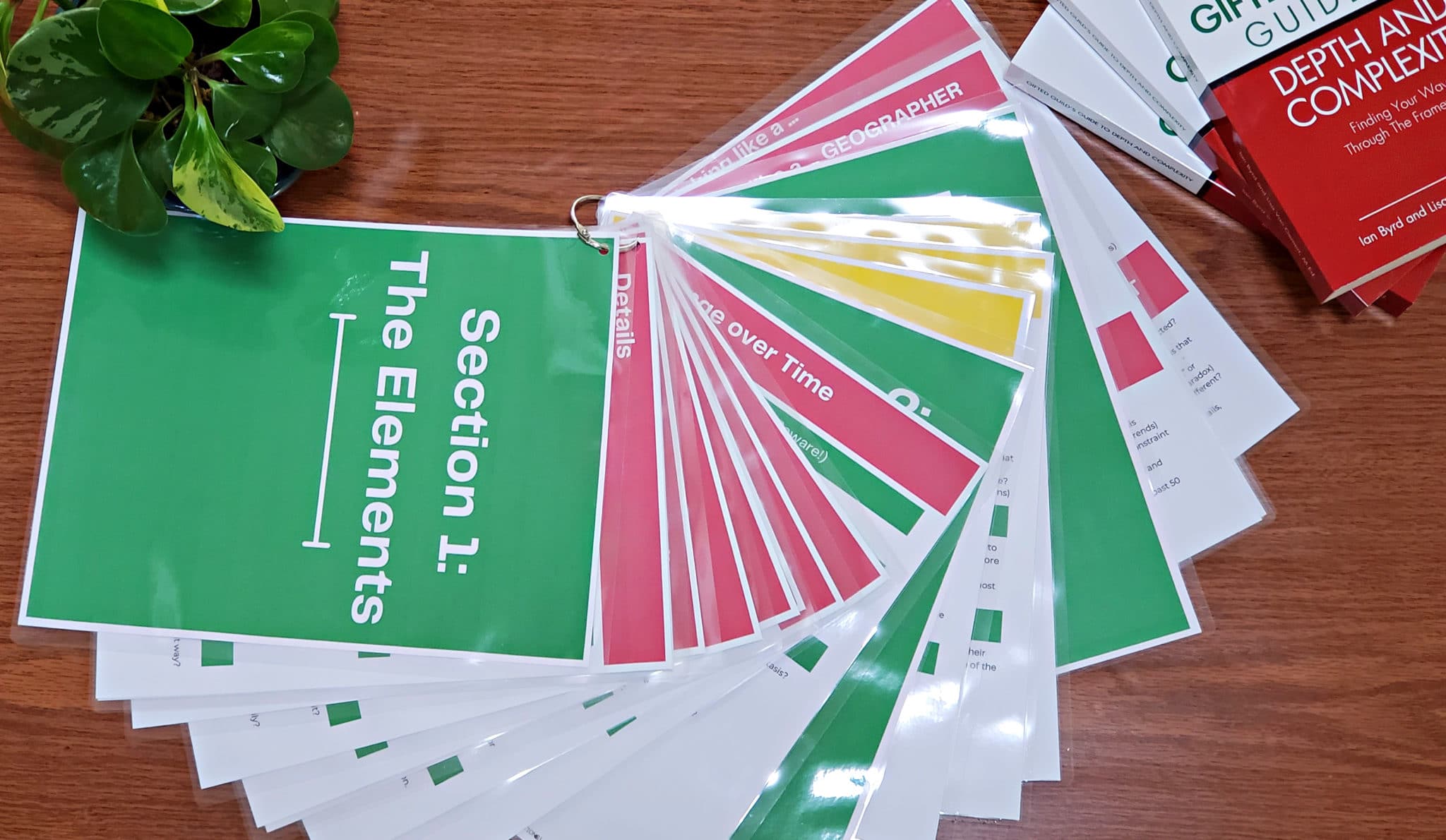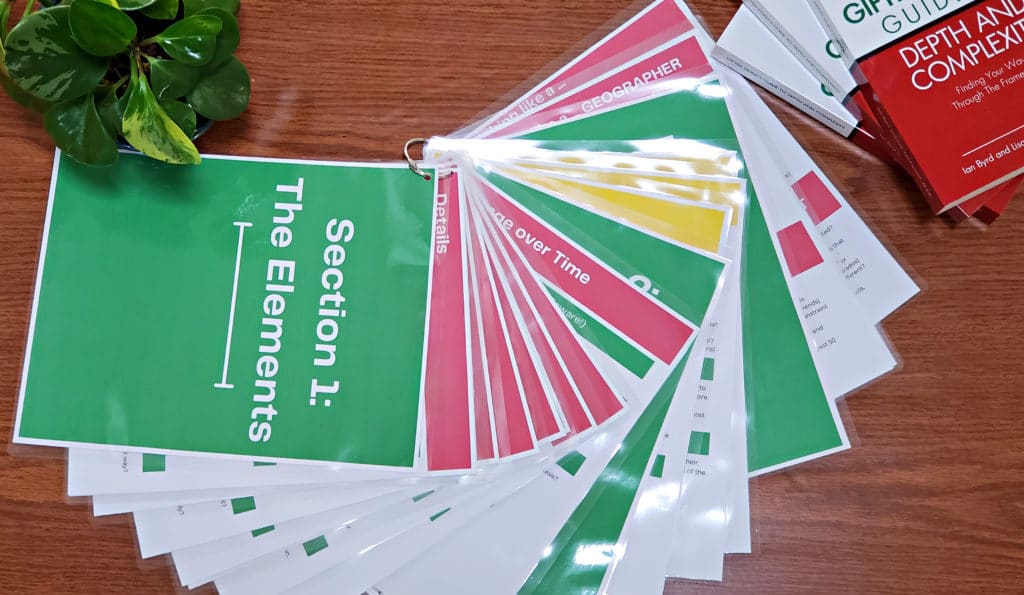 I keep this within arm's reach at my desk, and I use it every day. I'm not exaggerating. Every day.
When I'm trying to think of questions or when I'm creating activities, I look at the sections to find ideas.
I think you'll find yourself turning to it again and again.
Getting Your Copy of the Depth and Complexity Questions Ebook
I truly believe that this ebook will help any teacher who uses the Depth and Complexity framework.
To be clear, it's not a replacement for the full book. You should have that in your toolbox, too. (You can find that on Amazon or Barnes & Noble [ebook only at B&N].)
If you would like the ebook of the questions, you can get your own copy for just $5.
When you get your copy, you will be able to download it instantly and start using these great questions right away.
I hope you'll share with me what you think about it!
**If you want to become a Depth and Complexity master, you can take the Depth and Complexity Course. Learn more here.