If you've parented or taught a gifted child, you've probably Googled "How to help my gifted child succeed" at least once. Or maybe a million times.
Everytime, you're probably hoping someone has revealed the great secret.
I've worked with gifted children for decades, and I'm sharing (for free) the best strategies I've found.
Adaptive Giftedness
I call the strategy "adaptive giftedness," and I've published article about it before. (You can read that here).
It's such a powerful idea that the subtitle of the presentation is "and the power of the mind."
I've also shared the information at dozens of parent nights around the country, and I recently decided to share it with a wider audience by making a series of YouTube videos of the presentation.
The premise of the presentation is that connection is the key to success for gifted kids.
How do you help gifted kids get along with themselves?
Part 1 explores why gifted kids need a little bit of assistance in growing into themselves.
It shares tips for how to develop connection with the self.
You can view this part of the course here (or click on the image).
How do you help gifted children get along with peers and parents?
In the second part of the course, we explore helping gifted kids connect with peers and parents.
These videos are loaded with practical ideas that are research-based and reasonable.
You can watch the second part of the course here (or click on the image).
Helping Gifted Kids Connect with Teachers and the Community
The teacher-student relationship is powerful and lasting. This video will share how to develop that relationship. It also shares ideas of what not to do!
The power of connection to the community wraps up the course.
You can view Part 3 here (or click on the image).
Wrapping Up:
When E.M. Forster wrote, "Only connect," he wasn't referring to gifted children specifically, but his words are powerful for them.
I hope you find the series useful. I know lots of kids have found the first section especially helpful.
The more we learn about the care and feeding of gifted children, the less alone we feel, as parents and educators. While the purpose of the presentation is to help kids benefit from the power of connection, I think parents and teachers will find it very helpful as well.
You May Also Like
If you're raising or teaching a gifted child, I highly recommend two of my books. The first, Living Gifted, is a workbook-style book that is perfect for kids 10ish & up. The paperback is on Amazon, and the ebook version is here.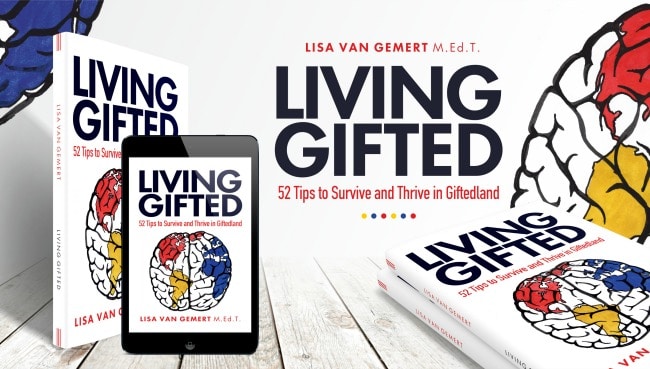 The second, Perfectionism: A Practical Guide to Managing Never Good Enough is an award-winner. I think you'll love it. Grab it on Amazon or at Barnes & Noble or wherever you get your books.