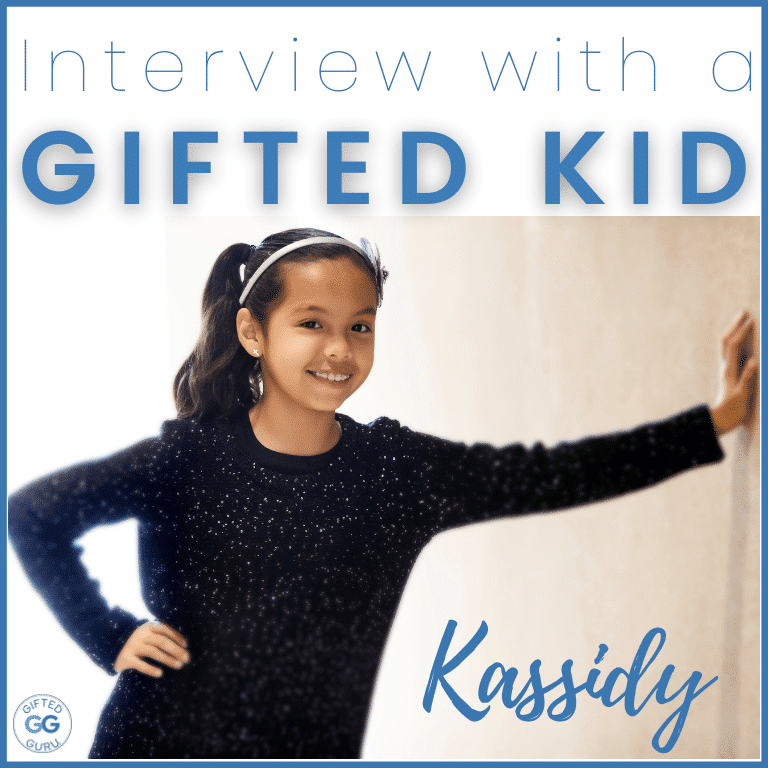 In this installment of the Interview with a Gifted Kid series, we'll meet Kassidy, a twelve-year-old from a suburb on the East Coast.
I spoke with Kassidy on the phone, and I kept trying to think of things to ask her because she was so fun.
She's also one of my Vanstars (what I call the students in my online streaming class).
Kassidy's got some interesting insights (and book recommendations) I think you'll love.
The Interview with a Gifted Kid Series
As part of my mission to make the world safe for the gifted, I interview gifted kids (and grown-up gifted kids) and share their stories of life in Giftedland.
My hope is that it will create a body of voices that will be persuasive that gifted students have needs, that giftedness isn't some "get out of hardship in school free" card, and that it will give hope to gifted individuals that they are not alone.
If you'd like to be interviewed, please contact me. I want the stories told.
If you'd like to read all of the stories, you can find them here.
Let's jump in to my interview with Kassidy.
When did you first realize you were gifted or hear the term "gifted"?
I have one instance I remember and one instance people have told me about.
The one I remember is that last year I had an IQ test, and it was the first time I'd heard the term "gifted" applied to me.
Also, there was a time when I realized that my level of school work wasn't normal. I am homeschooled, so I wasn't really aware that it was unusual to complete Algebra II in 6th grade.
I've been homeschooled since 1st grade. I have a physical disability and the books were too easy, so homeschooling was a better fit for me.
The one that was told to me was that when I was three years old they realized I could read letters and words.
Because of my physical disability – I had a motor delay – I looked at picture books all of the time. I think that's why I read so early.
How was giftedness explained to you?
It's never been a big thing. My parents told me my IQ, and we had a little conversation about that. I had figured out what it meant from reading.
I remember that I was crying, realizing I was different from other people, so I was both happy and a bit confused.
How did being gifted affect making friends?
I don't tell my friends. I prefer not to because I keep it out of friendships.
That's easier for me because I'm not in public schools. If I were in public school, I know it would get complicated.
I'm not necessarily drawn to other gifted people.
I do like to hang out with older people, especially older girls. I'm not looking for an older friend per se; I just like to be around them.
What about being gifted causes hardship or is hard for you?
There's only been one time when anything negative has happened. I do a homeschool co-op, and I was in a high school writing class. Other kids in the class didn't want to raise their hands, so I was answering questions.
This other girl said, "Will you please be quiet and let us have a chance, smarty pants?"
She said that even though they didn't want to raise their hands.
I just went back to taking notes.
Note: This is another place where her experience would have been different had she been in public school. There would have been more than one of these situations. Unfortunately, it won't change in college, if my experience is any indication.
How do you experience other people's expectations of you?
I set a lot of expectations for myself. I don't find other peoples' expectations hard or anything I can't do.
I like to get good grades, of course. I set the expectation for myself that I like to get a 95 on practice problems, and that's kind of difficult. I'm proud of myself when I accomplish that.
Other people aren't too hard on me – in fact, sometimes they're too easy.
My physical disability does not manifest itself when I'm just walking around, so people don't notice.
If you could go back and tell your younger self something, what would it be?
One serious thing I would say: Work really hard in school. Around 2nd grade, I got lazy. I started rushing through work. It was not a great year.
It was difficult for me to learn to walk, so I would tell myself, "Just keep on going."
I would also tell myself, "Math is fun!"
Up until 5th grade, I didn't think so because was too easy. I hated math until Algebra 1.
I work better when I'm challenged.
Right now, I'm taking college psychology and high school economics, as well as other classes, in addition to my "real" school.
I'm busy, and I like it.
We went on vacation to Florida, and I hadn't brought enough books. I ended up calculating the angle of blades in the ceiling fan and the area of bed frame. Then I discovered some math books, and I was happy.
Note: I love that she describes what I've found common in many high-ability individuals in various domains: they like being busy in their area of strength. It also reminded me of a time when I was snowed in at a ski lodge, ran out of books to read, and pulled all of the canned goods out of the cupboard to read the labels. Who can relate?
What are the advantages of homeschool for you?
I can get ahead as far as want. I'm taking Precal & the college psych class, so I have these opportunities.
Also, I'm immune to meanness.
Note: Can we make a t-shirt that says, "I'm immune to meanness."
What are some disadvantages of homeschooling?
I'm missing out on social activities, soccer games, football games, things like that. It would be cool to have a locker and move around from class to class.
How do you think your giftedness will affect your adult life?
College is going to look a little different for me. I'm planning to get my gen ed out of way, so that should shorten it.
My kids' education will be different because I have a different perspective. They'll be a little more pushed because that's how I am.
Really, I don't think it will affect it too much. I want to be a psychologist. Either a child clinical psychologist or a research psychologist. I'm looking forward to getting my doctorate in that.
I would like to marry a gifted man so we could share the experience. I'd like to have a couple of kids. I want to double major/minor in math and psychology. I'd love to be a professor. I'd also like to have a lot of dogs, one small dog and a couple of big ones, like a golden retriever and a Great Dane.
What do you wish general population knew about giftedness?
Everyone has strengths. Most people think of "gifted" as being a piano prodigy or academics. There are other ways. Some people are really good at friendships.
The culture needs to know that everyone has put focus on academically gifted to help achieve their potential, but there's more than just academic giftedness.
We focus on academic giftedness because school is where kids spend most of their time
Note: I suggested that schools look for that because that's what school is. She said, "Yes, but…."
Can you describe your ideal day?
I'd wake up and eat breakfast. I absolutely love hotel oatmeal with cinnamon and cranberries.
I'd walk my dog. He's a Boston Terrier I've been begging for my whole life.
I'd do some math, and foreign languages (I'm learning Latin and want to learn Japanese).
I'd watch some Jeopardy!, and I'd let my dog sleep with me (I'm not allowed to do that).
But most of all, no one would bother me when I was reading. I could just reeeeaad.
I'm a messy person, sometimes I'll just get settled in to read, and my mom will be like, "Come clean your desk/sweep floor." Or my dog is sleeping in my favorite reading chair. He's there right now!
Things you care about/ worry about:
I don't really worry long term.
I do worry about tests like everyone does.
I am worried colleges won't go back to normal because I'm looking forward to normal. I'm worried college will be online because I want the college experience.
Note: Another t-shirt opportunity: "I'm looking forward to normal." I loved how she understands already that it's normal to worry about tests and similar experieences. This isn't "anxiety"; it's normal nervousness we are genetically programmed to feel.
What are your hobbies:
I sew a little bit. I read a lot. I like to play outside and ride my bike. I like to play with my little sister outside. We also like to play Barbies and American Girl dolls.
What do you like to watch?
I like to watch vet shows and Jeopardy!. I'm excited for Babysitters Club to come out this Friday. I don't really have a favorite movie – well, maybe Princess Bride.
Let's talk about your reading.
I will read practically anything, although I'm not a big fan of fantasy/scifi. I like historical fiction, but if it's not available, I will read anything. I recommend A Gentleman in Moscow and Code Name Verity.
I read a book before I go to bed, and I like to read easy books then. Right now, I'm reading Sweet Valley High.
It's impossible to just read one book at a time.
Right now have 8 books going:
I have one book that is currently in the process of being read and has been thus for nearly a year: The Man Who Loved Only Numbers.
I'd forgotten about it. It's about a guy who lives only for math. He has no friends. It's a true story. It was even a big deal to get him to write this book.
I get my book recommendations from my mom. She orders books from the library. If I don't like it, I won't keep reading it.
What are some books you didn't like?
House of Dies Drear. If you want a boring scary book, this is it.
[Lisa: It has a lot of one-star reviews on Goodreads.
Kassidy: You need to read it and then you can leave your own review.]
The Bridge of San Luis Rey is another one.
[Lisa: I get it, but the last line of that novel redeems the whole thing for me. "There is a land of the living and a land of the dead and the bridge is love, the only survival, the only meaning." I love that line so much, that the whole book is worth it to me for that one line.
Kassidy: I like that, too.
Longer conversation about it as a metaphor for Christianity (something Kassidy and I share) ensues.]
Note: I have an Amazon storefront with loads and loads of book recommendations for gifted kids, some of which I've gathered, some that have been recommended by kids I work with, and many of which were gathered by Lynette Breedlove, GT educator extraordinaire. You can find that here. (It has affiliate links.)
Wrapping Up:
The conversation with Kassidy illuminated some important ideas:
There are commonalities among cognitively gifted people I see over and over, and Kassidy describes some of them. Wanting to hang out with older kids (so common!), setting high standards for oneself, being willing to contribute in class when others won't (see below for more on that), voracious reading, and interest in playing with toys even when people think you should just want to perform chemistry experiments all day.
It's unfair for people to judge gifted kids for being willing to contribute in class when others are not willing to contribute. Why are we so quick to jump on the gifted kid's case for over contributing instead of calling out the others for under contributing? So annoying.
School is a place where one is (unfortunately) frequently not immune to meanness.
Reading without interruption is a bucket list item for many in the gifted community.
Gifted kids are, at heart, kids. They ride bikes and play with siblings. They have hopes and dreams. They want a normal life. They are not just brains walking around.
There is little in life more delightful than a gifted kid's mastery of and playfulness with language. When Kassidy said, "… has been thus," my heart grew two sizes.
You May Also Like:
Would you like to join the thousands of other people who care about gifted education and receive my free monthly newsletter? Sign up and receive a free guide for helping gifted children thrive in school.

Note: Sometimes I use affiliate links, which means that if you click through and buy something, I get a few pennies (to buy more books!). It will never cost you anything extra.