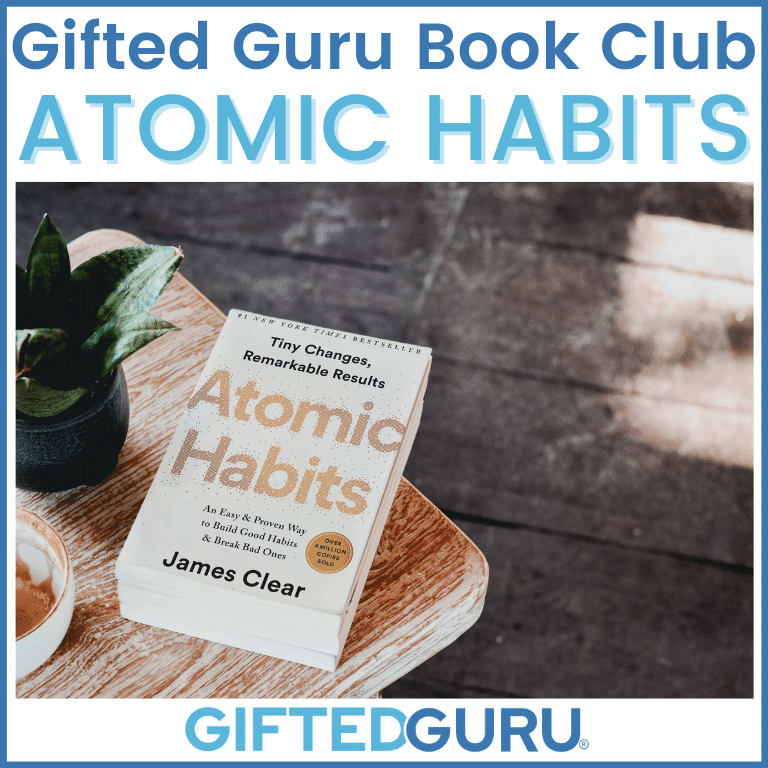 Atomic Habits by James Clear is a book I'd had recommended to me frequently, and as part of my 101 Goals in 1001 Days, I was plowing through some business books I've in my TBR (to be read) pile.
The basic premise of Atomic Habits
The fundamental idea of the book is that we all have small habits that either move us forward towards our goals or away from our goals. These habits are often based in systems that work for us or against us.
Clear breaks this apart into some key ideas that I think have terrific applicaton for parents and teachers, and I specifically love how some of the ideas push back against perfectionistic tendencies (since I literally wrote the book on perfectionism!).
Great Idea #1
If you are looking for results, focus less on goals and more on systems.
Because I see everything through the lens of school and home, I thought a lot about what systems are in place that help students (and hurt) and what systems are in place in most homes.
This line really stood out to me: You do not rise to the level of your goals. You fall to the level of your systems. Ouch.
I literally felt my gut twist when I thought about how much more I could have done to set up systems in my classroom (and my home) to make it more likely that students would be successful and that my kids would pick up their rooms.
Great Idea #2
If you want a habit to take hold, there are four rules: 1) make it obvious, 2) make it attractive, 3) make it easy, and 4) make it satisfying. Clear calls this the "Four Laws of Behavior Change."
I'm not sure if he invented that title or not, but that's what it's called in the book.
To make it obvious, he suggests thinking about time and location. When and where will you do this habit?
One of my goals was to reach the expert level in Duolingo in German. (Want to be my friend in Duolingo? Click here.)
I decided to attach it to my scripture reading and journaling habit that already exist every morning. When I'm done with them, I just added Duolingo to the pattern.
Clear calls this "habit stacking."
This idea wasn't new to me – I'd actually written about BJ Fogg's Tiny Habits in my Perfectionism book. I just liked Clear's style of explaining it and tying it to other pieces that I think worked really well together.
Great Idea #3
It's about trajectory, not current status. Ask yourself, "If I keep going in this direction, where will I end up?"
I love that because it is forgiving. If you are someone you don't want to be, you focus on what change you can make right now, today, that will shift the trajectory a little bit.
I used this to improve my system for becoming someone who can do 50 push-ups.
Instead of just saying, "I have a goal to do 50 push-ups, but I'm such a loser that I can barely do one good push-up," I said, "I'm someone who does push-ups" and every day I started doing push-ups right before I got in the shower.
I'm up to 13 now, and the trajectory ends at 50 (or more). I don't worry that I can't do 50 now, or that I missed a day. I think about how I am on the right trajectory. I get super happy when I think about where I will be as I keep following this path.
Great Idea #4
The most effective way to change your habits is to focus not on what you want to achieve, but on who you wish to become.
Oh, man, this idea was transformational for me.
I used the idea when I talked with Max about his grades and school habits (read that article).
Instead of thinking about how he has to keep a calendar and do homework, I invited him to consider thinking about whether he wanted to be someone who is responsible about maintaining his schedule, and because of that, the people around him are relaxed and free of anxiety or if he wanted to be someone whose refusal to manage his schedule and assignments causes stress and anxiety for those around him.
I also used it when I was considering my goals for my 101 in 1001 days project. If you look at that page, you'll see this:
My desires for the project overall were to:
Become a stronger, more diverse reader
Become a more confident German speaker
Become someone who could save a life
Become someone who has a strong understanding of physical geography of states and nation-states
Become someone who has a broader knowledge of scriptures in my mind
The goals weren't about achieving a certain thing, but rather becoming a certain person.
Clear says, "If you're having trouble determining how to rate a particular habit, ask yourself: 'Does this behavior help me become the type of person I wish to be? Does this habit cast a vote for or against my desired identity?'"
Isn't that powerful? Our habits are votes we cast for or against desired identity. Wow. I can't describe how that struck me.
Consider:
Is the way I speak with students a vote for or against my desired identity?
Is my attitude toward professional development
a vote for or against my desired identity?
Is the email I sent to parents/teachers a vote for or against my desired identity?
Great Idea #5
Last one (in my list – in the book, the hits just keep on comin'): Environment is the invisible hand that shapes human behavior.
There are so many ways we can make our environments work for or against us, especially when we consider that people are a part of our environment.
I decided to make some changes in my environment, although I'm not sure Clear would agree with the way I decided to do that (eat all of the ice cream to get it out of the house, for example).
I really do think it's a solution that's so obvious that we may underappreciate it.
Interested in Atomic Habits?
James Clear has a website about the book with printables and other information
You can grab the book on Amazon
Wrapping Up
Worth Reading Rating: 5
You can learn more about my Worth Reading Rating System here.
Looking for other great reads? I've got reviews on other books like:

Note: Sometimes I use affiliate links, which means that if you click through and buy something, I get a few pennies (to buy more books!). It will never cost you anything extra.